Some ten weeks after the launch of the 15-inch Retina MacBook Pro, Apple is just now catching up with demand, as evidenced by shipping estimates for new orders in many countries' Apple Online Stores moving to "in stock" status for standard configurations. The major exception to this status is in the Americas, where estimates have moved to 2-4 business days. These new estimates are improvements from the 5-7 business day quotes that were instituted just over three weeks ago.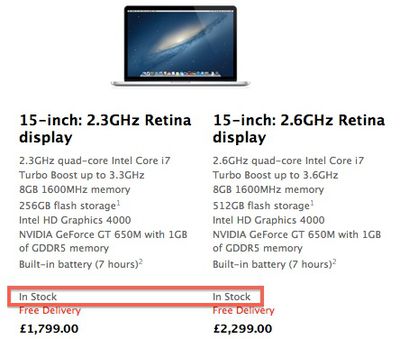 UK online store showing "in stock" status for Retina MacBook Pro
Build-to-order configurations understandably take some additional processing time in many markets, with customizations generally bumping estimates up to 5-7 business days. Interestingly, customizing an order in an online store in the Americas does not result in any additional processing time, with all configurations being quoted the same 2-4 business day estimate as seen for stock models.
Some customers are undoubtedly still waiting for signs of a 13-inch Retina MacBook Pro, which has been rumored for an October launch. With Apple also appearing set to launch a new iPhone, the "iPad mini", and updated iPod models, the company seems primed to pack in a significant number of updates for the remainder of the calendar year.
(Thanks, Nathan!)