Apple Asking Resellers to Triple iPad Display Space Ahead of Rumored September 12 Media Event
MacRumors has received word from multiple Apple Premium Resellers in Europe that Apple has requested they set aside additional table space for iPad displays over the next few weeks. One of the sources specifically cites September 12 as the Apple-imposed deadline for the adjustments to be made, while another source indicates that their store is already at work on tripling the amount of display space dedicated to the iPad.
We're told that the emphasis on iPad display space is coming at the expense of Apple's Mac Pro and Mac mini computers, which are reportedly being removed from display entirely at these locations. Displays of iPods and associated headphones are also reportedly being trimmed back to release space for the iPad.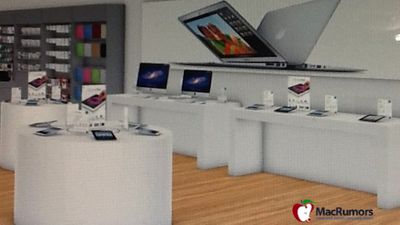 Apple rendering of partial reseller display layout with increased iPad presence
The reasons for the changes are not entirely clear, but the September 12 deadline suggests that they may have something to do with Apple's media event that is widely expected to be held on that date. Apple is expected to introduce the next-generation iPhone at that event, and may also be introducing the "iPad mini". Apple resellers could easily slot the iPad mini into some of display space now being shifted over to the full-size iPad, but it is unclear why Apple would be making these adjustments ahead of time rather than waiting until the iPad mini is announced to revamp the product display mix.
Apple is also rumored to be planning to launch a tweaked version of the full-size iPad as soon as next month, with some sources reporting that Apple will primarily be focused on shifting to the company's new, smaller dock connector standard alongside some minor internal changes that will be mostly invisible to users.
Update: We've heard a bit more from our reseller sources, who now share that the changes started rolling out three months ago but that Apple is just now pushing them out to the "V2" store locations. The reasoning behind the shift stems from the iPad accounting for 55% of dollar share and 61% of unit share among sales at the resellers but only representing 15% of display space. With the changes, the iPad will account for 45% of showroom space.