Apple's London Stores to Distribute iPhone and iPad Olympic Pins
With the opening ceremonies for the 2012 Summer Olympics set for tomorrow in London, Apple is preparing to offer an extra bonus to some customers visiting its stores in the area during the roughly two-week event. The company has produced a series of four lapel pins commemorating the London Olympics, displaying the flag of the United Kingdom in place of the screen of both black and white iPhones and iPads.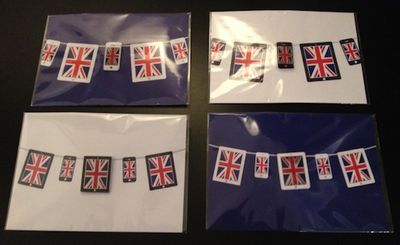 The pins are distributed attached to larger sheets of cardboard that appear as five iOS device flags hanging on a line, with the center one being the actual lapel pin.


We have not confirmed the exact details on distribution of the pins, but we've heard that select stores will be distributing the free of charge while supplies last on select days. Also unclear is how broad the distribution will be: Apple has a total of six retail stores inside the M25 motorway encircling London, with several others just outside and a total of 33 in the United Kingdom.
Apple offered a similar promotion during the 2010 Winter Olympics in Vancouver, distributing an iPod nano pin with the Canadian maple leaf at one store and a pair of pins showing off the maple leaf and the Apple logo at the other Vancouver-area store open at the time. Apple now has four stores in the Vancouver area.