Apple on 'Fall Transition', Apple TV, Impact of Rumors and More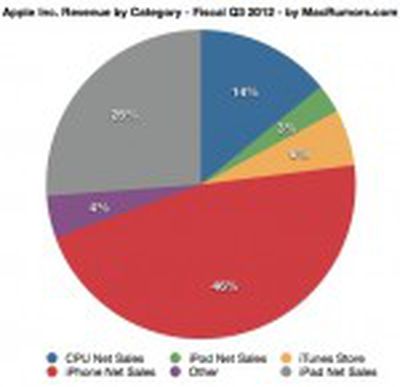 Apple held its Q3 2012 financial results conference call this evening. We have posted a full transcript of the call.
From the call, Apple discusses their expectations for the next quarter which runs through July, August and September. In particular, Apple CFO Peter Oppenheimer expects gross margins to decline in the next quarter due to a "Fall transition". He was unwilling to provide more details on direct questioning:
A: "Fall transition" that I spoke about is driving most of the decline that we see sequentially in gross margin. Not something that we're going to talk about in any level of detail today. We could not be more confident in our new product pipeline.
Apple uses such terms as "Fall transition" to represent changes to their product lines. Lower expected gross margins could point to new products with lower prices. The obvious speculation would point to the much rumored smaller/cheaper 7.85" iPad. Whatever the "fall transition" is, Apple expects it to take place before the end of September in order for it to impact the next quarter.
Apple was also asked about the impact of rumors and speculation on their sales

Q: Rumor and speculation, how much does it hurt sales in the quarter?

A: There's a lot of speculation out there. It's difficult to sort out but I'm fairly convinced that there's an incredible anticipation out there for future products. As you would expect given what we've been able to deliver in the past. I think it's a reasonable amount.
And later...
Try very hard to keep our product roadmap secret and confidential. We go to extremes to do that. That, however, doesn't stop people from speculating or wondering and they'll never do that. The great thing about this country is that people can say what they think and so-forth. I'm not going to spend any energy trying to change that. I'm glad that people want the next thing. I'm super happy about it. There are obviously quite a few that want what we're doing now as well. I'm not going to put any energy into trying to get people to stop speculating. I don't think it would amount to anything.
Finally, Apple is still optimistic about the Apple TV, and continues to believe in it despite it being a comparably smaller market.
Q: Did you give an Apple TV number and updated thoughts?

A: Sold 1.3 million last quarter, up more than 170% year over year. Brings fiscal year to 4 million units. This is pretty incredible. Still at a level that we would call a "hobby" -- continue to pull the string to see where it takes us. Not one to keep around projects that we don't believe in. Lot of people here that believe in Apple TV. Continue to invest.

Q: Don't do hobbies to be hobbies -- do it to make something bigger?

A: We do it because we think it'll lead us somewhere. We'll see. 4 million isn't a small number and there are a lot of believers in it.
We have a full transcript available from the call.