Apple Launches New 'Food & Drink' Category on App Store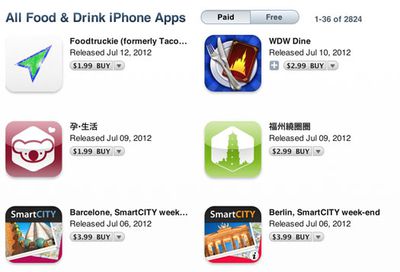 A few weeks ago, MacStories noted that Apple had told developers that a new Food & Drink category was coming to the App Store.
"In the next few weeks", applications will be automatically migrated to the new category; currently, the App Store doesn't provide a specific category for these types of apps, which have been typically listed under Lifestyle by their developers. According to Apple, the new category will include "apps that help users cook and bake, mix drinks, manage recipes, find new restaurants and bars, and learn what their friends like to eat and drink". Food & Drink won't include diet, grocery shopping, coupon clipping, or food-related game apps.
The new category is now live in the App Store [Link] and features over 2800 Paid and 4000 Free apps in the iPhone section and over 1200 Paid and 1000 Free apps in the iPad section. Apple has been contacting developers with relevant Food & Drink apps over the past few weeks to prepare for the new category.