Prices of Thunderbolt Cables Likely to Drop in 2013
One of the main criticisms of the new Thunderbolt connectivity standard embraced by Apple has been its cost, which adds a considerable premium to the prices of compatible peripherals. Even Thunderbolt cables are expensive, with Apple's 2-meter cable priced at $49, a price on par with offerings from the few other companies selling Thunderbolt cables so far.
In a report published earlier this week, Ars Technica took a look at why the cables are so expensive and investigated some of the upcoming advances that could help bring prices down beginning late this year or early next year.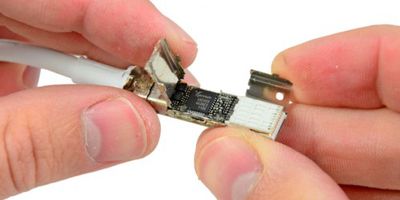 Inside an Apple Thunderbolt Cable connector (Source: iFixit)
As
revealed in iFixit's teardown
last year, Apple's Thunderbolt cable is expensive because it contains a significant number of chips and other circuitry, starting with the transceiver as noted by
Ars Technica
:
The chip is built using silicon germanium, "an expensive semiconductor process typically used for telecom applications," [Intersil marketing manager John] Mitchell told Ars. [...]

In addition to the transceiver, the current reference design also requires a separate microcontroller, as well as power management and voltage regulation chips to deliver the 3V data signals and 15V optional power supply for bus-powered devices. Essentially, there are four integrated circuits (IC) at either end of a Thunderbolt cable.
But Intersil appears set to simplify the design for Thunderbolt circuitry later this year with its own products that will reduce the number of chips and allow for cheaper cable to be used.
What Intersil calls an "Active Cable IC Solution for Thunderbolt Technology" appears to be the only complete turnkey solution we could find among manufacturers selling ICs for Thunderbolt. It combines the microcontroller and transceiver into a single signal processing chip, and combines power management and voltage regulators into a single power management chip. This cuts the number of required ICs from four to two.
With the new chips being manufactured using a 40-nanometer process, yield and cost efficiency are improved and heat generation is decreased, leading to further cost savings on the cable design. Combined with other improvements, Intersil's solution will bring substantial improvements in component costs, size, and power usage, which together should yield significant cost savings for consumers.