Apple Pulls Russian SMS Spam App from App Store [Updated]
Earlier today, Russian security firm Kaspersky Lab reported that it had been alerted to an app available in both Apple's App Store and the Google Play store for Android that was quietly harvesting users' address book contacts and sending them to the developer's servers. The developer's systems were then sending text messages to those contacts advertising the application, with the "From" field being spoofed with the original user's mobile phone number.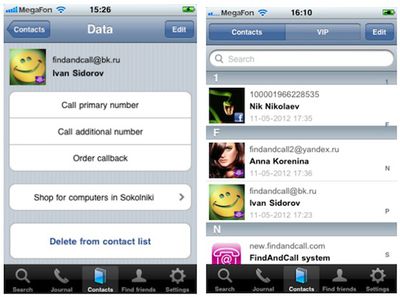 The application, Find and Call, ended up primarily targeting Russian users due to its use of the Russian language in the app description, but the app was available in App Stores around the world. The report notes that while there have been previous incidents of personal information being transmitted inappropriately from App Store apps, this appears to be the first time that such information has been used in a malicious manner.
Malware in the Google Play is nothing new but it's the first case that we've seen malware in the Apple App Store. It is worth mentioning that there have not been any incidents of malware inside the iOS Apple App Store since its launch 5 years ago. But the main issue here is user's privacy again. It's not for the first time when we see incidents related to user's personal data and its leakage. And it's for the first time when we have confirmed case of malicious usage of such data.
In several updates to the original post, Kaspersky Lab notes that spam invites are also being sent via email. One user was also able to get in touch with the application's author, who claims that the behavior is a bug, although the explanation certainly appears to be suspect.
It now appears that Apple has removed Find and Call from the App Store, as links to the app in the U.S. and Russian App Stores show that it is unavailable. The app did exist for some time, however, as it debuted in the App Store on June 13.
Apple has been working to limit third-party apps' access to personal data, and will be rolling out enhanced permission requirements in iOS 6 to alert users when their data is being accessed.
Update: Apple has issued a statement to The Loop acknowledging that it has pulled the app.
"The Find & Call app has been removed from the App Store due to its unauthorized use of users' Address Book data, a violation of App Store guidelines," an Apple representative told The Loop.