Apple's Retail Store Staff Compensation Criticized
In the latest installment of its "iEconomy" series of articles, The New York Times takes a look at Apple's retail stores, examining the compensation offered to its employees responsible for fueling booming sales in the division. The article features quotes from a number of former Apple retail store employees, including MacRumors' own Jordan Golson.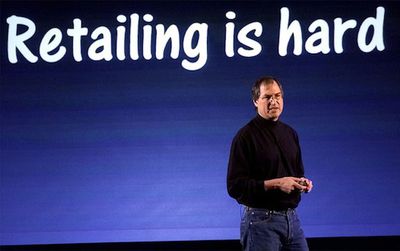 The new report takes the stance that Apple is not paying its retail staff enough given the success of the stores, instead relying on its employees' devotion to the company and a strong fan base providing a massive pool of job applicants to keep its retail stores staffed.
Within this world, the Apple Store is the undisputed king, a retail phenomenon renowned for impeccable design, deft service and spectacular revenues. Last year, the company's 327 global stores took in more money per square foot than any other United States retailer — wireless or otherwise — and almost double that of Tiffany, which was No. 2 on the list, according to the research firm RetailSails.

Worldwide, its stores sold $16 billion in merchandise.

But most of Apple's employees enjoyed little of that wealth. While consumers tend to think of Apple's headquarters in Cupertino, Calif., as the company's heart and soul, a majority of its workers in the United States are not engineers or executives with hefty salaries and bonuses but rather hourly wage earners selling iPhones and MacBooks.
The report notes that roughly 70% of Apple's 43,000 U.S. workers are retail store employees, with many of them earning in the neighborhood of $25,000 per year. Apple's pay rates are above average for the retail sector, but the Times argues that with each retail store employee bringing in an average of $500,000 in sales per year Apple is not a typical retailer.
The latest iEconomy report comes just days after Apple began offering raises of up to 25% to many of its retail store employees, with speculation suggesting that the move was made to address the criticism set to appear in the report. Apple last week also launched new employee hardware discounts of $500 off of a Mac or $250 off of an iPad, on top of existing 25% employee discounts.
(Photo by Win McNamee/Reuters)