Apple Retail Store Staff Set to Gain Raises of Up to 25%
Earlier this week, Business Insider reported that all Apple retail store staff would be receiving raises of at least $4 per hour, a claim that the site later backpedaled from somewhat as other sources from the company's stores reported in to note that they had heard nothing of the sort.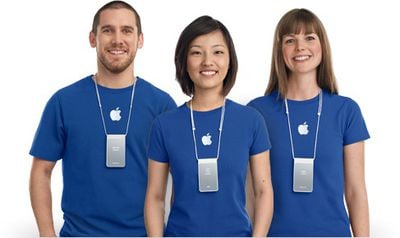 But Dow Jones Newswires is now weighing in with its own claims that Apple is indeed raising staff pay by "as much as a quarter of their wages".
Employees began learning of the raises in face-to-face meetings with managers last week, according to three Apple employees in various regions across the U.S. The raises, which are based on performance, will begin appearing in paychecks around the middle of July, two of these people said. [...]

The overwhelming staff complaint during an internal review was wage levels, one employee said. Higher-level retail staff, such as its "Genius" tech support teams and "Creative" educational teams were among the most frustrated, this person said. At one store, another employee noted, a nearby competing Microsoft Corp. (MSFT) retail shop had begun poaching employees by offering promotions and higher wages.
The report notes that sales staff at Apple retail stores are currently paid between $9 and $15 per hour before the forthcoming raises are factored in, with Geniuses at the high end of the pay scale earning as much as $30 per hour.
It is unknown just how the raises will be distributed across staff and what proportion will be closer to the 25% end of the raise spectrum, but it is clear that Apple is making a significant effort to increase wages for its retail store workers in order to help retain staff and increase satisfaction amid booming sales and retail store traffic.