Teardown of New MacBook Pro's Retina Display Reveals 'Engineering Marvel'
Last week, the teardown experts at iFixit took a look at the new Retina MacBook Pro, noting how Apple used a number of innovations first deployed in the MacBook Air to reduce the machine's thickness but in the process hampered users' ability to repair and upgrade components.
As it notes on its blog, iFixit has now taken apart the Retina display itself to further examine the steps Apple took to mount the breakthrough 2880x1800 display within the thin lid of the notebook.
The Retina display is an engineering marvel. Its LCD is essentially the entire display assembly. Rather than sandwich an LCD panel between a back case and a piece of glass in front, Apple used the aluminum case itself as the frame for the LCD panel and used the LCD as the front glass. They've managed to pack five times as many pixels as the last model in a display that's actually a fraction of a millimeter thinner. And since there's no front glass, glare is much less of an issue.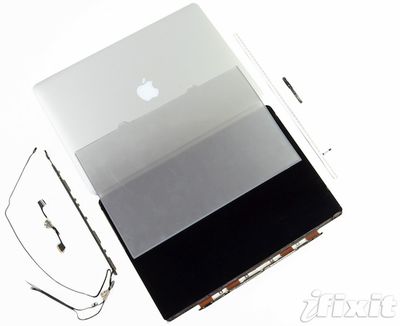 With the LCD so tightly integrated into the display assembly, iFixit actually broke the LCD in the process of trying to disassemble it, noting that anyone looking to replace their display would need to replace the entire assembly instead of trying to swap in a new LCD panel.
The teardown documents the full range of features used to keep the display slim and light while delivering crisp images on the ultra-high resolution screen, including routing of cables through hinges, 48 LEDs at the bottom of the screen to light the display, and various diffuser, prism, and polarizing sheets to generate the screen's images.


The new Retina MacBook Pro remains in high demand amid tight supplies, with shipping estimates for new orders through Apple's online store remaining at the 3-4 week figure reached less than two days after the machine debuted.