iOS 6's Smaller Changes: Custom Email Alerts, 'Find My Friends' Geofencing and More
As is typical when previewing a new operating system, on Monday Apple's Scott Forstall showed off 10 main features of iOS 6 including improvements to Siri, Facebook Integration, a new Maps app, and a Do Not Disturb mode.
However, there is a lot more to the next iPhone operating system than that. A slide shown at the end of Monday's keynote displayed a number of new features that didn't warrant full keynote coverage but are still worth mention to iOS users: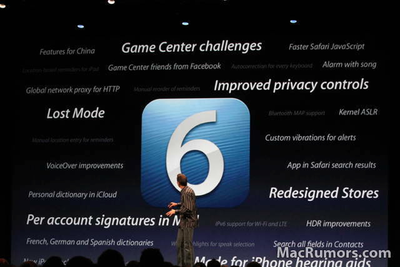 - Users can now set custom email alerts for any of their VIP contacts.
- Turning Bluetooth on and off is much quicker than it was in iOS 5. Bluetooth controls are now located in first page of System Preferences, next to the Wi-Fi and Airplane Mode controls.
- The iPad gains a native Clock app with similar function to the iPhone version.
- Users no longer need to enter their password to update apps -- only when purchasing an app for the first time. Additionally, users aren't kicked to the home screen when buying or updating an app in the App Store.
- Newly downloaded apps gain a temporary 'New' banner on the icon to make them easier to pick them out.
- Geofencing alerts have been added to Find My Friends. One possible use, suggested by Macworld: "If you're one of the many workers who carpools, you can set up a geofence on the driver to let you know when they leave their house."
- In iOS 5, the color of the menu bar would change depending on what was happening in the background -- green for a phone call or blue for Personal Hotspot. In iOS 6 those colors still exist, but the menu bar changes color to better complement the app. MaxThemes.com has more on how Apple color-matches the menu bar.
- One of the most unnecessary additions to iOS 6 is also one of the most telling. Apple has made the metallic volume slider in the iPod app and elsewhere
change its reflection
as the iPhone is tilted -- as if it were actually reflecting light. While some may say it's a waste of engineering resources, this shows Apple's incredible attention to detail.