Fantastical, an OS X natural language calendar assistant, has been updated to version 1.3 today. The new version includes support for iCal and iOS reminders.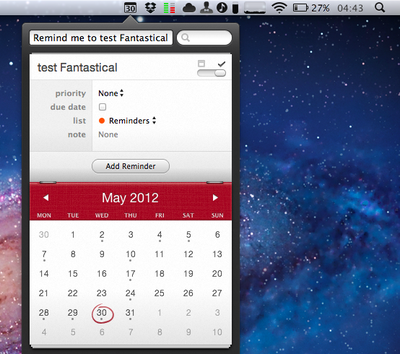 MacStories describes the new feature:
Fantastical can create, edit, and delete reminders with natural language recognition. In testing the app, I told Fantastical to "remind me to take out the trash", and the app intelligently parsed the command as just "take out the trash", interpreting the initial portion of the sentence as a reminder input.
The utility can then sync reminders across iCloud and iOS devices. Fantastical is available as a free trial download from the developer's site, or directly from the Mac App Store for $19.99. [Direct Link]
Flexibits is also the company that we've hired to develop a MacRumors iOS app which is currently in the works.