As noted by ifoAppleStore, Apple is continuing its trickle of retail store openings this week with a new location opening on Friday, May 25 in Paris. The new Les Quatre Temps store will be Apple's sixth in the Paris metropolitan area.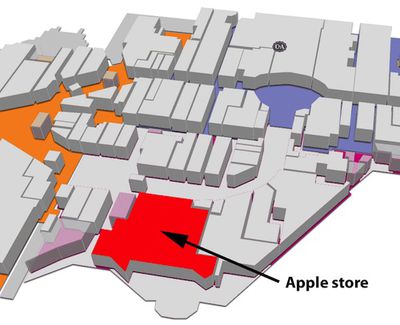 The huge store will be located on Level 1 adjacent to the Gap store. The five-level mall is located in the La Défense district of Paris, along the north extension of the Champs Elysées, and sits adjacent to the iconic Grande Arche building.
No square footage measurement for the new store has been officially released, but based on mall plans and a photo of the construction barrier posted by MacGeneration back in March the store does appear to be one of Apple's larger mall-based locations.


Overall, the store will become Apple's eleventh in France, breaking a tie with Italy for the position as Apple's fifth most popular country for retail store construction, following the United States, United Kingdom, Canada, and Australia.