Apple Again Ranked as World's Most Valuable Brand
Studies of "brand value" are always difficult to compare, as widely differing methodologies used by those measuring such data yield markedly different results. But tracking year-to-year movements using a consistent methodology can offer some interesting perspectives, and so Millward's Brown's latest BrandZ study (via The Next Web) makes for a good look at trends in marketing and branding.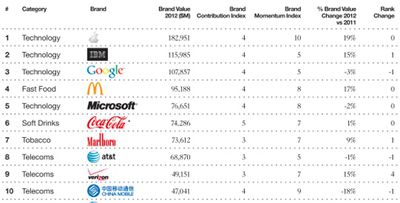 In the 2012 brand rankings released today, Apple tops the list for the second year in a row, scoring a brand value of nearly $183 billion as compared to last year's $153 billion figure that saw Apple move into the top position for the first time. Apple's 19% growth was the strongest among the top ten brands.
David Roth for WPP said "Brands help businesses create competitive differentiation, command a price premium and become more resilient to crises or economic turbulence. This year, those businesses that leveraged technology, focused on the customer experience or boosted control of their brands thrived."

Apple continues to innovate and maintain its 'luxury' brand status, but faces future competition from Samsung. Now worth more than $14.1 billion, thanks in part to the success of its Galaxy handsets, Samsung is successfully outpacing Apple in a significant number of markets by positioning as a cool, well-priced alternative to the ubiquitous iPhone."
Still, Samsung's brand value of $14.1 billion for a 55th place ranking paled in comparison to Apple, and the company's 16% growth in brand value was unable to match Apple's performance.
Among other top brands, IBM passed Google to take the second spot in the rankings with a brand value of nearly $116 billion as seven of the top ten spots were held by technology or communications companies. Facebook saw the largest percentage gain among top companies, with its brand value jumping by 74% to $33 billion, a leap of sixteen places to number 19 in the rankings.