Foxconn Building New $210 Million Production Line for Apple Products
China Daily reports that Apple's manufacturing partner Foxconn continues to expand its operations in support of Apple's strong growth in product sales, investing $210 million to build a new production line for unspecified components. The new production line is said to be set to come on line in October of this year and will be located in the Chinese city of Huai'an in the eastern province of Jiangsu.
The plant, covering an area of 40,000 square meters, plans to hire 35,800 employees.

The annual output value of the plant is expected to reach 6 to 7 billion yuan ($949 million to $1.1 billion), and the import and export value will be $55.8 million, the office said.
Foxconn, which has come under scrutiny regarding workers rights issues and has recently been working with Apple to monitor issues and improve standards, has been aggressively expanding its facilities to support Apple's production needs. In addition to new production facilities for the iPhone and iPad in Brazil, the company has also recently adopted a strategy of decentralizing its Chinese production facilities, building some of its new plants in interior regions closer to the homes of many of the young workers seeking jobs with the company.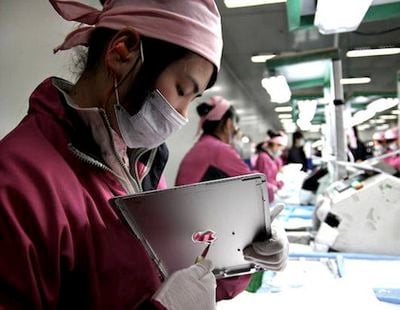 Foxconn workers polishing iPad rear shells (Source: ABC/Nightline)
It is unclear what role the forthcoming Huai'an facility will play in the production of Apple devices, and while the addition of nearly 36,000 workers marks a substantial investment in new production for Apple, it will represent only a small fraction of Foxconn's overall workforce, which currently includes well over one million employees.