Apple to Contribute Toward Costs of Improving Working Conditions at Foxconn Facilities
Reuters reports on comments from Foxconn chief Terry Gou, who claims that Apple and Foxconn will be splitting the initial costs to improve working conditions at Foxconn's facilities in China.
"We've discovered that this (improving factory conditions) is not a cost. It is a competitive strength," Gou told reporters on Thursday after the ground-breaking ceremony for a new China headquarters in Shanghai.

"I believe Apple sees this as a competitive strength along with us, and so we will split the initial costs."

It was unclear if the split would be 50/50 or in some other ratio.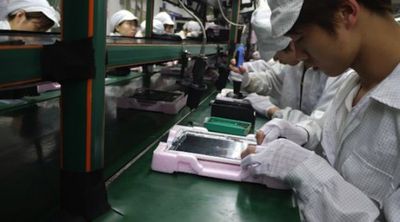 Foxconn workers assembling iPads (Source: Rob Schmitz/Marketplace)
Foxconn has raised wages several times over the past couple of years as it has faced scrutiny over the treatment of its employees. And following a series of audits, Foxconn and the Fair Labor Association
reached an agreement
in late March to reduce overtime while boosting compensation packages to compensate for the reduction in hours.
It is unclear how much the actions are costing Apple and Foxconn and how the costs are being split, but with Foxconn operating on a very slim profit margin it has limited ability to finance such improvements without raising costs for its customers or receiving direct support from Apple to assist with the changes.