Report Claims 7-Inch iPad in August, New iPhone in September, New 10-Inch iPad by End of Year
Digitimes has had a hit-or-miss track record when it comes to Apple rumors, but with the site having offered some accurate information in the past, its claims continue to be closely watched. In its latest report, the site lays out a timeline for Apple's iPhone and iPad plans for the remainder of the year, basing its claims on sources within Apple's supply chain.
The report focuses on Pegatron, which has served as an alternate assembly partner to Foxconn for a number of Apple products. According to Digitimes, Pegatron has landed orders for both a new iPhone planned to launch in September and a new iPad scheduled to debut "in the fourth quarter".
The iPhone claim appears to be a reasonable one given current thinking that Apple will return to a roughly one-year interval between iPhone updates, with a September launch coming just under a year after the early October introduction of the iPhone 4S last year.
But the iPad claim is a more troublesome one, as Apple has so far stuck to a yearly schedule for iPad hardware updates centered around the March-April timeframe. A late 2012 release of a new "10-inch iPad" presumably arriving as a next-generation version of the current device would mark a significantly shorter lifecycle for the current model than would be expected.
Similar rumors of a late-year iPad update surfaced last year before being quashed amid reports that work on the new Retina display would keep Apple on its yearly update cycle.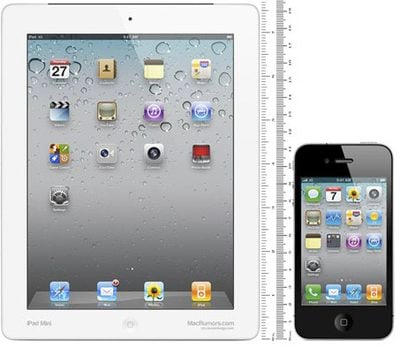 Mockup of 7.85-inch iPad next to an iPhone (courtesy of CiccareseDesign)
Digitimes
makes one final claim in its latest report, indicating that Foxconn will be a manufacturing partner for a smaller 7-inch iPad, which is planned for release in August. Claims of such a device have been circulating for some time with some reports similarly
pointing to a Q3 launch
, and it seems likely that Apple has at least toyed with the idea. It is unclear, however, whether the company truly has any intentions of bringing it out of its design lab.