Apple Reports Results for Q2 2012: $11.6 Billion Profit on $39.2 Billion in Revenue
Apple today announced financial results for the first calendar quarter of 2012 and second fiscal quarter of 2012. For the quarter, Apple posted revenue of $39.2 billion and net quarterly profit of $11.6 billion, or $12.30 per diluted share, compared to revenue of $24.67 billion and net quarterly profit of $5.99 billion, or $6.40 per diluted share, in the year-ago quarter. Gross margin was 47.4 percent, compared to 41.4 percent in the year-ago quarter, and international sales accounted for 64 percent of the quarter's revenue. Apple's quarterly profit and revenue were both company records for the March quarter.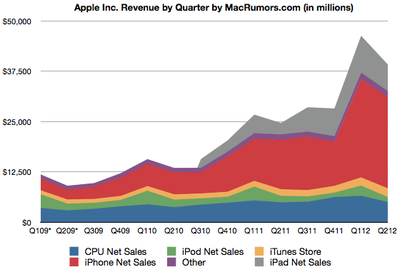 Quarterly iPhone unit sales reached 35.1 million, up 88 percent from the year-ago quarter, and the company sold 11.8 million iPads during the quarter, up 151 percent year-over-year. Apple sold 4 million Macintosh computers during the quarter, a unit increase of 7 percent over the year-ago quarter. The company sold 7.7 million iPods, representing 15 percent unit decline year-over-year.

"We're thrilled with sales of over 35 million iPhones and almost 12 million iPads in the March quarter," said Tim Cook, Apple's CEO. "The new iPad is off to a great start, and across the year you're going to see a lot more of the kind of innovation that only Apple can deliver."
Apple's guidance for the third quarter of fiscal 2012 includes expected revenue of $34 billion and earnings per diluted share of $8.68.


Apple will provide live streaming of its Q2 2012 financial results conference call at 2:00 PM Pacific, and MacRumors will update this story with coverage of the conference call highlights.
Conference Call Highlights
- Very pleased to report results of our outstanding fiscal quarters. New March quarter records for iPhone, iPad, Mac, profit and revenue.
- YoY increase fueled by growth in iPhone and iPad sales. Income up 94% YoY.
- New March quarter records for Desktops and Portables. Growth of 7% YoY compared to IDC's 2% growth for the PC market. 3-4 weeks of Mac channel inventory. Below target range of 4-5 weeks.
- Released developer preview of Mountain Lion during the quarter. Expect Mountain Lion to be available in "late summer"
- 7.7 million iPods vs 9 million a year ago. iPod Touch continues to account for more than half of iPods sold. 70% market share, iPod is top selling player in most countries tracked. 4-6 weeks of iPod channel inventory.
- Record results from iTunes store, $1.9 billion in revenue, up 35% YoY. Strong sales of music, video and apps. 28 million songs and 45,000 movies.
- 35 million iPhones vs 18.6 million YoY. Very strong iPhone sales growth in all segments, led by Asia Pacific and Japan where sales doubled YoY. Tremendous momentum in greater China. 5x iPhone sales YoY in China thanks to iPhone 4S and China Telecom.
- iPhone 4S in 100 countries and 230 carriers. 8.6 million iPhones in channel inventory, up 2.6 million units to 4-6 weeks of channel inventory.
- iPhone momentum in enterprise has evolved beyond email, calendar and contacts.
- iPad sales up 151% YoY. New iPad available in 40 countries.
- 2 Million iPads in channel inventory, below target range of 4-6 weeks.
- Sold 2 iPads for every Mac to US K-12 customers while also generating a record quarter for Mac sales. San Diego School District bought 10k iPads and plans to buy 15k more.
- Hopeful that iPad will be a popular choice going into school buying season.
- US Air Force is deploying thousands of iPads as pilot flight bags.
- Thousands of iPads are being deployed as mobile sales tools as well.
- 365 million cumulative iOS device sales, more than 50 million in March quarter.
- App Store has 600,000 apps, 200,000 for iPad.
- 25 billionth app sold less than 4 years after the launch of the app store.
- More than 125 million customers signed up for iCloud.
- Record sales for retail. $4.4 billion in sales for retail stores, up 38% YoY. Strong growth 826,000 Macs vs 797,000 in year ago quarter. About half were to customers who never owned a Mac before.
- 2 new stores, including first Netherlands store in Amsterdam.
- Exited Quarter with 363 stores with 1/3 outside the US.
- Average revenue per store was $12.2 million vs $9.9 million YoY, up 23%
- Segment margin reached a new record of $1.1 billion, 26.1% of retail revenue.
- 85 million visitors vs 71 million last year. Up 19%. 18,000 visitors per store per week.
- Half margin difference was driven by lower than expected commodity and costs, a quarter from a stronger product mix, and the remainder from one-time items that we don't expect to reoccur next quarter.
- Cash from short and long term securities totaled $110 billion, up $12.6 billion from prior quarter. 74 billion in cash was offshore.
- Dividend of $2.65/share when third quarter results are reported in July.
- Revenue in third quarter to be $34 billion vs $26 billion last year. GM to be 41.5%. OpEx to be $3.3 billion. Tax rate of 25.25%. EPS of $8.68.
Q&A Session
Q: As related to June quarter, it implies a sequential downtick that is worse than similar guidance over last 3 years. Can you talk about headwinds on topline in June vs March?
A: Manufacturing ramps for iPhone and iPad yielded the fastest rollouts for these product families that we've ever had. We were able to fulfill demand in the March quarter instead of the June quarter because of that. I highlight 5 factors that influenced our thinking on this: iPhone channel inventory changes, in target inventory range of 4-6 weeks. Into the June quarter last year, we built an additional 700k of channel inventory and rolled out to new carriers. Will impact sequential comparisons.
Fantastic iPhone 4S execution led to a huge January, including launches in China and all countries where iPhone is currently shipping. Exited the quarter in supply/demand balance. New iPad execution was also fabulous. Had an incredible start with significant supply of iPad. Fastest rollout ever. Were able to satisfy much more demand for the new iPad in the March quarter than we had last year. This moves a shift from iPad volume from June to March this year, which will affect comparisons.
Decreased entry price of the iPad to $399, and the US dollar has strengthened recently and we expect this to have an impact on sequential comparison to last year when the dollar weakened.
Feel very good about our business and our new product pipeline.
Q: You already saw a 7% sequential decline in March which suggests the uptake of the lower priced iPad 2 was phenomenal. Is that the right way to read it? What does that demand tell you about the potential to move to lower price points on the iPad over time and see increased demand?
A: Still learning about demand and the lower price points. New iPad is on fire and we're selling them as fast as we can make them. Education buying season looks terrific for us.
Q: Outgrew the market in Macs, but what about the slowdown in YoY growth in the category? Were inventories down or is it product transitions or iPad cannibalization?
A: As you said, we did outgrow the market, 7% vs 2%. This is the 24th straight quarter that we've outgrown the market. Extremely pleased with that. Compared to last year, it's largely effected by the fact that we changed the bulk of our portable line in February 2011. It's a tough compare. Portables last year were up 53% year-on-year, so that compare is very difficult.
Looking at it sequentially, you have to factor in that we had 14 weeks in the December quarter. There was some cannibalization from iPad and the market is slow, but the much larger factor is the upgrades.
Q: Talk more broadly about what you're learning about lower price points for iPhone and iPad? Was the decrease in iPad ASP exclusively mix related or a further broadening of the channel to indirect partners? What are you learning about customer preferences on pricing?
A: On iPad 2, with the change in price, we're actually thrilled with the results we've seen though it's only been a few weeks. It's too early to come to a clear conclusion. From what we're seeing, this unlocked some education demand that is probably more price sensitive. Also, in several other countries there was a marked change in demand at that price point. On the early going, we feel great about it. I'd also point out that the new iPad was semi-constrained for the full 3 weeks we shipped it last quarter and is actually still constrained. The mix of the iPad to the iPad 2, we're not sure about it yet. The absolute sales of the iPad 2 is very exciting.
On iPhones, we're happy with the pricing on the 3GS and the iPhone 4. Both contributed to our ability to achieve 35 million in sales, our second highest quarter of all time.
Q: Can you talk about how you think about the markets for tablets and PC devices going forward? You've been fairly clear about saying that tablets will eclipse PC's in volume at some point, and they are somewhat discrete markets. There seems to be a lot of work on PC platforms to combine PC and tablet experiences going forward. Can you comment on why you don't believe the MacBook Air and tablet markets won't converge? Isn't it realistic to believe that we'll have a device under 2 lbs that will be a notebook and a tablet? Can you comment on why you don't think that product will come?
A: Anything can be forced to converge. The products are about tradeoffs. You begin to make tradeoffs to the point where what you have left at the end of the day doesn't please anyone. You can converge a toaster and a refrigerator but those won't be pleasing to the user. Our view is that the tablet market is huge and we've said that since day one. We didn't wait until we had results. We were using them here and it was clear to us that there was so much you could do and the reasons people used them would be so broad, the iPad is so useful in consumer, and enterprise and education -- the applications are so easy to make very meaningful for someone and there is such an abundance of those, as the ecosystem gets better and better -- we'll continue to double down on making great products. The limit here is nowhere in sight. It's been 2 years since we shipped the iPad and we've sold more than 60 million iPads. Took 24 years to sell that many Macs, 5 years to sell that many iPods, 3 years to sell that many iPhones.
iPad is a great product, appeal is universal, I could not be happier with being in the market and the level at which we're innovating in the product and the ecosystem.
I also believe that there is a very good market for the MacBook Air and we continue to innovate in that product. I do think that it appeals to someone that has a little bit different requirements. You wouldn't want to put these things together because you wind up compromising and not pleasing either user. Some people prefer to own both, but to make the compromises on convergence... we're not going to that party. Others might, particularly from a defensive point of view but we're going to play in both.
Q: Quite a bit of concern over carrier subsidies. Carriers will try to stretch out replacement cycle and attempt to reduce subsidies significantly. How do you feel about this risk and how do you feel about pressures on subsidies?
A: Our focus is on making the best smartphone in the world. A phone that delivers an off the charts user experience, that customers want to use every day. At the end of the day, the vast majority of carriers want to provide what their customer want to buy. That's what motivates them.
The most important thing is for Apple to keep making products that customers want. We are deeply committed to doing this. We are innovating at a rate that's unbelievable. From the carrier, the subsidy isn't large relative to the sum of monthly payments across a 24 month contract. Any delta between the iPhone and another phone is even smaller. iPhone has a distinct advantage to the carrier over other phones. The churn from iPhone customers is lowest of any phone they sell. That has a significant financial benefit to the carrier.
Our engineering teams work extremely hard to be efficient with data, differently from some others. iPhone has far better data efficiency, vs other smartphones which are using an app-rich ecosystem. Most important, iPhone is the best smartphone on the planet to entice a customer who is currently using a traditional phone to upgrade to a smartphone. This is by far the largest opportunity for Apple and our carrier partners and a great experience for customers. It's a win-win-win. All of these factors are missed in this discussion of subsidy.
Q: Can you give us some color on how consumers are using iCloud? Are you seeing a big uptake in iTunes Match and storage upgrades?
A: Customers are using all the features of iCloud, response and feedback have been terrific. Pickup on storage is occurring. It's growing because we just launched iCloud in October. 125m users using the service, and they're building up documents and music and other things. Storage growth will come more over time. Our real desire wasn't about selling more storage. Match is a great product, but it's a paid for service. We just wanted to increase customer delight across the platform on iOS and the Mac. That's why we've built iCloud. We couldn't be happier that just a few months into this there are more than 125 million users.
Q: Can you dig a little more into China? Increased distribution points, lower prices of 3GS, more people in China having money?
A: It was an incredible quarter in China. Revenue was a record at $7.9 billion in greater China, up over 3x YoY. Brings the first half of the year to $12.4 billion vs a full year in 2011 of $13.3b. It's mind boggling. Pent up demand from iPhone 4S. Launched 4S in mainland China in January, so no purchases in Q1. Very strong demand for iPad 2, have not launched new iPad in mainland China though we are shipping it in Hong Kong. The halo that both of these products have produced for the Mac is incredible. Mac is over 60% YoY compared to market growth of 6%. Mac is at 1800 points of sale in greater China, but lots of opportunity there. 11,000 points of sale for iPhone, a much smaller number than in the US and China will be a bigger opportunity. iPad only 2500 points of sale.
Lots of expansion, but a lot of headroom here in our view.
Q: Was iPhone mix in China different than the rest of the world?
A: Don't have that in front of me but I don't think so. iPhone 4S just launched, so you'd expect it to mix fairly heavy towards new product.
Q: Seems to be a logjam to getting new TV shows, movies and rentals. How important is it to getting new content on iTunes?
A: Thrilled with rate of getting content on iTunes. Have to do it country-by-country so it's hard. Largest catalog of songs and movies anywhere. Thrilled with progress we're making and customers love it.
Q: The other big issue outside subsidies was regarding shortages. There's talk about potential Qualcomm shortages into next couple quarters and potential constraints at year-end. There are some pretty neat products out there that you might want in new products down the road. Can you talk directionally about whether you expect long-term to get more than your fair share of product and what you need? Do you see any component tightness down the line?
A: We're aware of lithography transition issue to 28nm. We don't use 28nm parts but we don't comment about future products. Outside of this, we work very closely with our supplier partners and do everything that we can do to get supply. Sometimes we're successful and sometimes we're not. You can bet that we're focused on everything that we can do to work on it.
Q: Regarding Wal-Mart, they are moving their store-within-a-store from 1 store to 25. How is it going and when can you be at all 10,000 stores?
A: There's no plan to be at all 10,000. We're trying some things, aside from the Mac, and seeing how it goes. They've been a very good partner on iPod, and are an increasingly more substantial partner in the iPad space as well. An evolving partner on iPhone. We're working with them and enjoy working with them and hope to continue expanding.
Q: Could you add some more specifics for iPhones in Asia-Pacific? Is supply/demand in balance there? With iPhones getting increased inventory, will that go down in June quarter?
A: Our desire on iPhone inventory was to increase inventory across the quarter. We ended with only 6 million units in the channel in December because we were backlogged. Our target is to between 4-6 weeks, and the addition of iPhone inventory got us into that range. We feel that we exited the quarter in supply/demand balance. Our ops team was so good, the vast majority of supply/demand in each country was reached by the end of January. We had the mother of all Januaries, with really getting out of the iPhone 4S backlog and launching in China. It was an incredible start to the quarter from us.
China is not supply/demand imbalanced on iPhone. We're still supply constrained on the new iPad. We are selling them as fast as we can make them. On a macro basis in China, China has an enormous number of people moving into higher income groups -- middle-class if you will. This is creating a demand for good, not just Apple's, but other company's goods as well. There is a tremendous opportunity for companies that understand China and we're trying to understand it as best we can.
Q: There have been some changes in Spain to subsidies. Have you seen any changes in demand in Spain in response to carrier changes?
A: Spain has been weak for us and probably for many companies. Revenue grew in Spain last quarter, but materially less than Europe or worldwide. That wasn't cause-and-effect related to the issue you mentioned. Spain is in a terrible economic situation, but I look at that as an unusual case. To be clear about what was done, there is some noise in the pipe on this. The carriers still have subsidies for existing customers and I don't want to talk specifics, but they pulled subsidies on new customers. It wasn't a pull of all subsidies, but just a pull of subsidies on new customers. Not all carriers did it, as well. I wouldn't use that as a proxy for the world, I guess is my point.
Q: Provide a little more context for us on the segments dovetailing with drop in guidance?
A: iPhone expects to have a year-over-year increase and sequential decrease for reasons we discussed. Built channel inventory, existing March in supply/demand balance, and a huge January. For iPad, we would have a significant YoY and sequential increase in sales.
For gross margin guidance, we're pleased to be providing guidance of 41.5% for the quarter, expect 2/3 of the decline to be driven by higher mix of iPads and Macs, full quarter of selling the iPad lineup, and loss of leverage on lower revenue. Remainder of difference between one-time items that occurred in March instead of June.
Q: In terms of flexibility in cash and providing more color, how should we think about opportunities regarding patent disputes? Any thoughts about settling vs ongoing litigation?
A: I've always hated litigation. We just want people to invent their own stuff. If we could get an arrangement where we can be assured that's the case, and that a fair settlement on stuff that's occurred, I would highly prefer to settle vs battle.
The key thing is that it's very important that Apple not become the developer for the world. We need people to invent their own stuff.
Q: Talk about feedback from customers on iCloud? Average numbers of devices, how many people attaching more than one device?
A: We have the data that you're asking for but we don't want to help our competitors. The feedback that we're getting is off the charts, they're loving it and the fact that we can be here with a conference call 6 months later and have 125m people using iCloud every day speaks for itself.
Q: R&D up over $800 million now, where is that growth coming from? It's definitely been ramping up.
A: We view this as a good thing. We are investing in engineering to bring out the best products in the world. We are making investments in hardware and software engineering teams. We're shipping the best products we've ever shipped. We've got some fabulous new products in the pipeline. We're thrilled with the ROI we're going to see on these investments.
Q: Disclosed China with 4S shipping along with 21 other countries early in January, what about China Telecom specifically? When did that launch?
A: We launched with China Telecom in early March. Were at supply/demand balance with them prior to the end of the quarter. Happy to be working with them.
Q: On OpEx, down pretty significantly versus sales. How do you feel about it longer term? Can you take us through components on pricing going forward?
A: We are investing in R&D to introduce the most innovative products in the market. We are also spending on marketing and advertising, opening and expanding our own retail stores and indirect channels. Also investing in infrastructure and stock based compensation for our employees. We're thinking about the long term and confident in our returns.
For the quarter we just finished, components were better than planned. This helped us exceed our guidance. Displays and NAND Flash growth drove most of the favorable cost benefit. In June, NAND and mobile DRAM supply continue to exceed demand. We expect pricing to continue to be favorable. Displays will stabilize as supply/demand become in balance. Hard drive is coming into supply/demand balance. Most components are expected to fall in-line or faster than previous trends.
Q: How much conservatism is in your gross margin guidance?
A: The 2/3rds of the sequential decline is seen to be driven by a higher mix of iPads and Macs, a full quarter of selling the current iPad lineup, and a loss of leverage in dropping revenue.
Q: On the enterprise side, you mentioned about how the iPad is being taken into new markets and verticals. What resources is Apple dedicating to having a direct relationship with the enterprise?
A: Our focus was initially on working with Fortune 500 and the Global 500 to get the iPad certified for their particular enterprise. I'm pleased to report that 95% of the Fortune 500 is testing or deploying iPad and 75% of the Global 500 doing the same thing. We are moving our focus away from this and focusing on penetration within these accounts. They span across many verticals through government, through education and many different functions within the enterprise. It's the most broad-based product I have ever seen in terms of adoption rate into the enterprise. We are applying more resources and salespeople to interact with these customers. We are also working with carrier partners and resale partners to sell to these customers.
Q: Comments around gross margin and guidance, I expect iPhone sales down 10 million sequentially. Just being conservative on that?
A: We are incredibly confident in our business, strategy and what we're doing. Giving guidance, its what we have reasonable confidence in achieving. We do expect a drop in iPhone sales giving that we've built 2.6 million units of channel inventory in the March quarter, and we entered the March quarter with significant backlog. We've fulfilled that and launched 20 new countries. We have immense confidence in what we're doing and we're pleased with how our business is performing.
Q: iPad is supply constrained across many geo's, is there a specific component issue? When do you expect to meet demand?
A: Hard to answer that. We will be able to supply a significant number of iPads during the quarter. Feel confident about that. Tough to know precisely that it will balance until you get there. We're very confident with improving supply and that the total number will be very significant.