Apple Discontinues Free Trials of Aperture and iWork
As noted by MacStories, Apple has discontinued its free trials of Aperture and iWork, directing users to the Mac App Store where the apps are available for purchase.
The discontinuation of the Aperture trial is not particularly recent, as discussion forum reports indicate that it has been missing for at least a month, but the removal has gone mostly unnoticed. It is not entirely clear when the iWork trial was taken down from Apple's U.S. site, but it appears to still be available from some international sites such as the UK site. Other international sites also suggest that the iWork trial is still available, but attempts to download the app simply lead to the Mac App Store.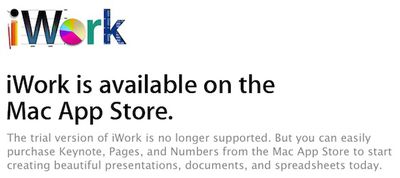 Since the launch of the Mac App Store in January 2011, Apple has moved all of its major software products to the marketplace, which does not support free trials. The company advises Mac App Store developers wishing to offer free trials of their software to host the downloads on their own sites, but Apple appears to have decided that this option is no longer worthwhile for most of its own apps. Apple does, however, continue to offer a free 30-day trial of Final Cut Pro X, so it has not yet abandoned trials entirely.
Aperture is priced at $79.99 in the Mac App Store, a significant cut from the $199 price of the boxed software it replaced. In a similar fashion, the three iWork applications (Pages, Numbers, and Keynote) are available through the Mac App Store at $19.99 each, less than the $79 price for the boxed version containing all three applications.