Intel Reportedly Shipping New Thunderbolt Controllers Ahead of April 23 Ivy Bridge Introduction
VR-Zone reports that Intel has begun shipping its second-generation Thunderbolt controller chip, known as "Cactus Ridge". As previously discussed, Cactus Ridge will arrive in both four-channel (DSL3510) and two-channel (DSL3310) versions, offering Apple a pair of options for including the new chips in its forthcoming products.
Another aspect that makes the DSL3510 interesting is that it supports multiple internal DisplayPort inputs. What this means is that it could in theory interface with a discrete graphics card as well as the integrated graphics from an Intel CPU. This is likely to be the chip used by Apple in its desktop systems, whereas the more power efficient DSL3310 will end up in notebook products.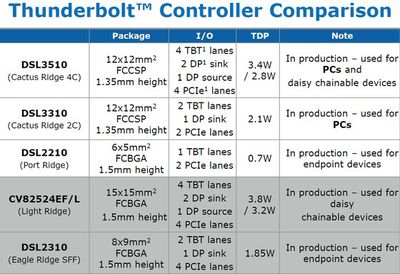 The arrival of the new Thunderbolt chips lines up nicely with Intel's Ivy Bridge processors to set the stage for updates to a number Apple's Mac lines. Previous reports have indicated that the first batch of quad-core desktop and mobile Ivy Bridge chips appropriate for Macs should be arriving on April 29, with an announcement coming in the week prior to that date.
Digitimes now claims that the announcement will take place on April 23, with a number of PC manufacturers lined up and ready to launch systems using the new processors. The report points to PC vendors being ready to release new ultrabooks beginning in May, but previous reports had claimed that the lower-voltage chips likely to make their way into the more compact machines won't be launching until early June.