Reseller Shortages Hint at Forthcoming Update for 15-Inch MacBook Pro
As noted by AppleInsider, third-party resellers are beginning to experience shortages of Apple's 15-inch MacBook Pro, hinting that a refresh may be coming in the near future.
Among those resellers reflecting backorder status on some of the current 15-inch MacBook Pros is J&R, which is now sold out of both the 2.2GHz model, which is listed as "out of stock," and the 2.4GHz variety, which is currently advertised as "on order."

In addition, Best Buy has also stopped accepting online orders for the 2.4GHz model for home delivery. The 15-inch notebook is still available on a store-by-store basis, however a quick check of individual store inventory in cities such as Chicago and Austin similarly indicate that between 40 and 60 percent of those shops are similarly reflecting stock outs.
Apple's own online store is not yet showing any delays in fulfilling orders, but the company prioritizes its own distribution channels over third-party resellers, meaning that shortages generally show up first at those resellers.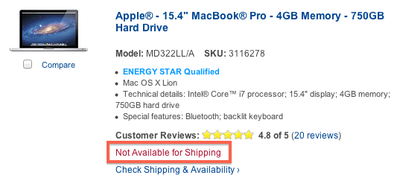 Apple has been said to be ramping up production of new 15-inch MacBook Pro models carrying a thinner form factor, with Intel's rumored April 29 debut of quad-core mobile Ivy Bridge processors undoubtedly driving that timeline.
With dual-core Ivy Bridge processors not launching until early June, it seems that Apple may not be launching upgraded 13-inch MacBook Pro models until that time. As for the 17-inch MacBook Pro, AppleInsider had previously claimed that Apple was likely to use a staggered rollout of the new MacBook Pro form factor, with the 17-inch model not receiving an update until perhaps several months after the smaller models.