AT&T iPhone Unlocking Process Detailed, Successful for Some
On Friday, AT&T released a statement that they would now be offering SIM unlocks for iPhones that are no longer under contract. The process of SIM unlocking a phone allows it to use SIM cards from other carriers. This feature is frequently used during international travel to allow the use of mobile service from local carriers. The Next Web detailed the basic steps required by AT&T.
The process is painless and only takes a few minutes in the chat. The only piece of information required by AT&T is the International Mobile Equipment Identity (IMEI) number, which can be found under Settings>General>About on your device.

Once you've completed the procedure, Apple pushes the unlock code during the next 72 hours to your email address, so the code comes from the mothership, not from AT&T. Once Apple completes the unlock request, a customer has to back-up and restore and tether the device to iTunes to complete the unlock process.
MacRumors readers shared their experiences on Sunday trying to unlock their out-of-contract iPhones in our discussion thread on the topic. Responses from AT&T service representatives were mixed with some seemingly unaware of the process.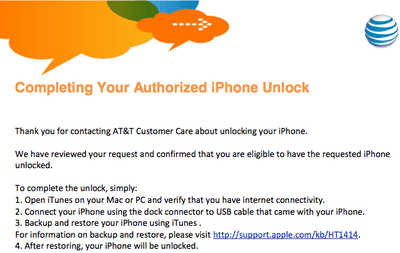 Confirmation email from AT&T
Others had better luck, such as
Exegesis48
, who was able to get his iPhone 3GS unlocked immediately.
I called AT&T Tech Support and was able to get my iPhone 3GS unlocked no problem. In fact, the representative waited on the line to ensure I received my unlock confirmation email, at which point he told me to backup and restore my phone to receive my unlock. I did this and was able to receive my unlock IMMEDIATELY.
Experiences may have improved over the day. Some early callers were told the process would complete on April 16th, while others were told to simply wait 48-72 hours for the confirmation email.