Android Tops 50%, iOS Hits 30% in U.S. Smartphone Installed User Base
Research firm comScore today released the results of its latest survey of mobile phone users in the United States, finding that Google's Android and Apple's iOS continue to dominate the smartphone landscape.
The highlight of comScore's report is Android passing 50% of installed smartphone user base for the first time, grabbing 50.1% of the market during the three-month period of December through February. That marks a gain of 3.2 percentage points since the previous three-month period and a gain of 17 percentage points over the past year. But Apple's iPhone has also seen strong performance, gaining 1.5 percentage points over the previous period and 5 percentage point year-over-year to hit 30.2% of the market.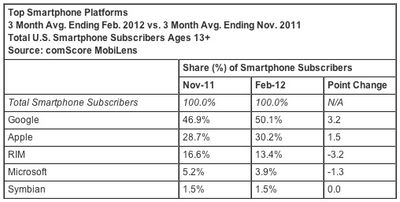 Notably, Apple has also moved passed Motorola in overall mobile phone user base in the United States, with Apple's share growing by 2.3 percentage points over the previous three-month period while Motorola's share shrank by 0.9 percentage points. Apple now holds the third highest share of mobile phone user base in the United States, placing behind Samsung and LG.


comScore's data tracks installed user base rather than new handset sales, making it more reflective of real-world usage but slower to respond to shifting market trends than some other studies. The difference between those two types of studies was highlighted in a Nielsen report from last week which showed very similar number to comScore's data among "all smartphone owners" in the United States. But with the strength of the iPhone 4S launch, Nielsen's numbers showed that Android's 16-point lead over the iPhone was narrowed to 5 points when looking only at those who purchased their devices within the past three months.