New iPad Notes: Battery Charging at 100%, Safari Scaling Images
A couple of new findings as people spend more time with their new iPads. First, iLounge reports on findings by DisplayMate on the new iPads charging behavior. It turns out the iPad continues to charge for as long as an hour after it says its at 100%, suggesting the on-screen indicator isn't quite accurate and may still need more charging.
In an email exchange with iLounge, DisplayMate President Ray Soneira indicated that the third-generation iPad—when connected to power via the included Apple 10W Power Adapter—actually continued to draw 10W of power for up to one hour after reaching what is reported by iOS as a full 100% charge
iLounge found in their battery testing of the new iPad that sometimes the charge would drop initially quickly when they thought the iPad was fully charged.
Earlier in the week, Tom's Hardware noticed that Safari on the new iPad was automatically scaling large images down significantly.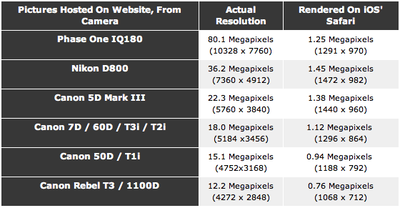 Large images were automatically scaled down to near 1 megapixel resolutions. This means that if you are viewing large images through Safari, you aren't getting the full Retina experience. A workaround mentioned is to save the image to Photos which seems to preserve the original resolution.
These findings were confirmed by web developer Duncan Davidson who ran into the limit when trying to enhance his websites with Retina-sized images.