One interesting note on the new iPad revealed in TechCrunch's review is the observation that charging time has increased significantly over previous models. While the increase is not necessarily a surprise given the significant 70% boost in battery capacity from 25 watt-hours in the iPad 2 to 42.5 watt-hours in the new iPad, it is an issue that many users may not have considered.
It appears that they've had a fairly major breakthrough in their battery technology. While the new battery clearly isn't much bigger than the old one, it can hold much more juice (42 watt-hours versus 25-watt-hours). The downside of this is that I've found it takes quite a bit longer to charge the new iPad. As in several hours — you'll probably want to do it overnight.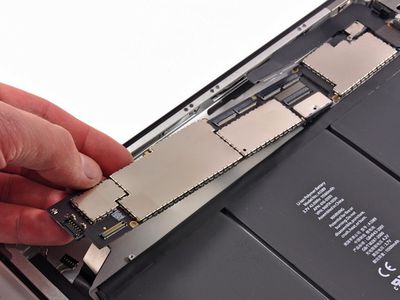 Logic board and battery of new iPad (Source: iFixit teardown)
The increased battery capacity is undoubtedly being used to power such enhanced components as the Retina display and LTE networking technology, while also maintaining the same battery life (10 hours on Wi-Fi, 9 hours on cellular data) of the previous iPad.
TechCrunch also notes that the increased power of the new iPad also seems to manifest itself in the device becoming "noticeably warm" in the lower left corner, something that had not been observed to such a degree in earlier models.