AnandTech has done some digging into the iOS restore code for Apple's new iPad, discovering that the device is apparently utilizing Qualcomm's MDM9600 baseband chip for its mobile connectivity. While some had thought that Apple would attempt to use the 28-nm MDM9615 chip in the third-generation iPad, Qualcomm's roadmap suggested to us that Apple would likely use the 45-nm MDM9600 chip that has been on the market for some time now.
Now that the restore .ipsw images have been posted and are available for download, I took a peek inside and did a little bit of forensics. It turns out that Apple has gone with Qualcomm's MDM9600, and has given the device codename Maverick (as opposed to Trek for MDM6610). This part still contains UE Category 3 LTE, CDMA2000 1x/EVDO Rev.A (and B), GSM/EDGE, and WCDMA/HSPA+ all the way through DC-HSPA+ 42 Mbps. It's a 45nm 13x13mm part we've seen in numerous other 4G LTE devices thus far.
Technically, the code reveals the new iPad as carrying a baseband chip of MDM9x00, but Qualcomm's MDM9200 and MDM9600 chips differ only in their support for CDMA2000 networks.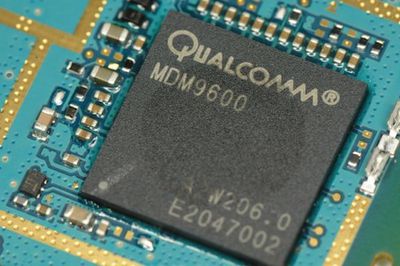 Qualcomm's MDM9600 baseband chip (Source: AnandTech)
For the next-generation iPhone, Apple will need to move to a different chip that will also support voice over LTE, and for that the company is indeed
expected
to utilize the newer and smaller MDM9615 baseband chip.