'iTV Entertainment' Trademark Holder Seeking to Rouse Apple's Attention with Warnings over Unreleased TV Set
While Apple has been rumored for some time now to be working on a television set, essentially no concrete evidence of such a product has surfaced. But with Steve Jobs noting in his biography that he had "finally cracked" how to create the "simplest user interface you could imagine" for a television, rumors about the company's plans have been circulating widely.
As for what Apple would name such a product, some have suggested that Apple will transition the "Apple TV" name over to the new product, while others have believed that "iTV" would be the company's preferred name even though it raises potential trademark and branding issues with other entities such as the UK's ITV network. Notably, Apple first offered a sneak peek of its own iTV product back in late 2006, opting to rename it as the Apple TV before it launched in early 2007.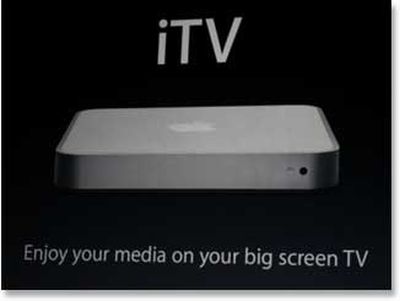 Slide from Apple's September 2006 "sneak peek" of iTV, which became Apple TV before launch
But while the British television network is the highest-profile roadblock to any effort by Apple to gain the rights to the iTV, there are others who hold intellectual property rights related to the name, and one in particular is concerned that Apple might be making an end run to usurp the term.
Patrick Hughes, president and CEO of iTV Entertainment, LLC, will be taking his case public tomorrow in an attempt to spur Apple into discussion of the trademark with warnings of legal and/or regulatory action if Apple should introduce a product under the "iTV" name. While Hughes does not hold a trademark on the "iTV" name itself, he does hold one on "iTV Entertainment". From a press release set to be published tomorrow:
iTV Entertainment, LLC announced today that its counsel, Bart S. Fisher, had sent a letter to Apple, Inc. board director, Al Gore, suggesting that a meeting be held "to see if an amicable and fair transaction arrangement" could be made between the parties with regard to Apple's use of the "iTV" mark displayed throughout their U.S. Patent No. 2011/0154394 A1 for a product that is rumored to be in development by and being planned for a possible launch in 2012. Apple describes its device as being "an audio and video entertainment center".

"The Apple iTV entertainment center device would cause a great amount of confusion with iTV Entertainment customers", according to iTV Entertainment LLC Chief Executive, Patrick Hughes. Hughes also said that Apple CEO Tim Cook and general counsel Bruce Sewell have been notified as well as another board member Andrea Jung, that should "the iTV rights issue" not be resolved, then we would have no other choice but to "bring to the International Trade Commission (ITC) [our trademark infringement complaint] that could result in an exclusion order being issued against Apple under Section 337 of the Tariff Act of 1930."
Hughes notes that iTV Entertainment has been using its U.S.-registered trademark since 2001 and that it made sure in August 2010 that Apple was aware of the trademark should it have been interested in launching its revamped Apple TV set-top box as the iTV. Hughes tells MacRumors that Apple did not express any interest in acquiring his iTV Entertainment trademark at that time.
Hughes points to increasing chatter from analysts and other sources referring to Apple's rumored television set as the "iTV", but relies most heavily on Apple's own use of the term in patent applications as evidence of the company's intent to use the name. Apple's use of the term in patent applications actually extends back a number of years, with the 2011 patent application cited by Hughes in his press release actually being a continuation of a patent application filed for the original iTV set-top box software on the same day it was previewed in September 2006.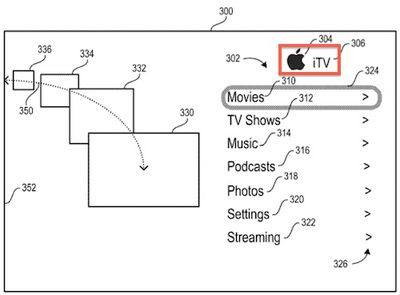 Figure from Apple's September 2006 "iTV" patent application
With excitement about a potential Apple "iTV" growing, Hughes clearly senses that the time is ripe to sell the trademark rights, and he undoubtedly would like to have Apple's checkbook at the table before any deal is made. He notes that Chinese company Hisense has introduced its own
I'TV
tablet television, with the company potentially interested in acquiring the iTV Entertainment trademark from Hughes' company.
Noting that "time is running short for Apple" and that it "would be a shame" for Apple and its consumers if the trademark ended up in Hisense's hands, Hughes is clearly trying to bait Apple into entering the bidding to secure the rights to the trademark.
Apple has yet to respond to Hughes' latest notices regarding the iTV Entertainment trademark.