Rumors of Massive Apple Retail Store for Paris as Virgin Vacates Prime Location
Business Insider points to a report [Google translation] from French newspaper Le Figaro noting that Virgin will be vacating its landmark retail store on Champs-Élysées in Paris and that Apple is one of the primary candidates rumored to be interested in taking the spot.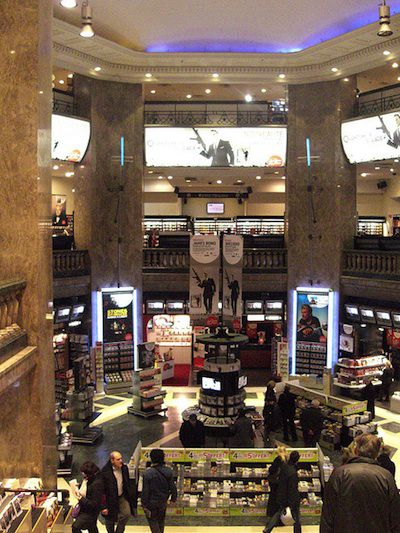 Interior of Virgin Megastore on Champs-Élysées (Source: Flickr/Ju_li_a)
The entire Virgin store checks in at roughly 75,000 square feet, with nearly 50,000 square feet of it dedicated to the sales floor. Apple's largest flagship retail stores at Regent Street and Covent Garden in London currently offer roughly 25,000 square feet of space, and while Apple could presumably opt to take only a portion of Virgin's space at the Paris location if it is indeed interested, the space certainly would give Apple an opportunity to build by far its largest retail store in a very prominent location.
It is also interesting to note a report from Hardmac claiming that Apple CEO Tim Cook was in Paris earlier this week for unknown reasons. There is obviously no specific evidence tying his rumored presence to the Virgin store vacancy, but those hoping that Apple might pursue the project are welcome to speculate about whether he may have been in town to personally survey the site amid other company business.