OnLive Launches Premium 'Desktop Plus' with Flash and PDF-Enabled Web Browser
Last month, OnLive introduced its free OnLive Desktop service that allows users to run virtual instances of Microsoft Office apps streamed from OnLive's remote PCs to the users' iPads. The company has now added Adobe Acrobat Reader support to the service and introduced a paid "Desktop Plus" subscription service to provide enhanced functionality including priority access and a Flash- and PDF-enabled browser experience. OnLive Desktop Plus is priced at $4.99 per month.
The free OnLive Desktop App, currently available on iPad—and coming soon to Android, PC, Mac, TVs and monitors—delivers no-compromise, media-rich, instant-response Windows applications including Microsoft Word, Excel and PowerPoint software, and as of today, Adobe Reader for PDFs, along with 2GB of cloud storage. OnLive Desktop Plus, available for $4.99/month at www.desktop.onlive.com, provides all OnLive Desktop Standard features plus OnLive's gigabit-speed accelerated browsing experience with full Flash player capability. With OnLive Desktop Plus, the iPad not only becomes 100% Flash compatible, it becomes the world's fastest mobile Flash player.
As with the original OnLive Desktop service, there is some lag in responding to touch input and visual artifacts when moving quickly through documents or web pages. The lag made it somewhat difficult to work with interactive Flash-based content such as games in our testing, but the service does allow for decent viewing of Flash video content on the web.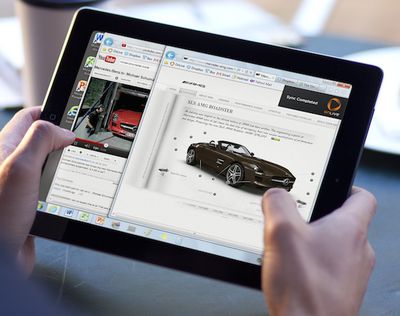 While that slight lag is a function of the time needed for data to transfer between OnLive's servers and the user's iPad, OnLive's PCs themselves are connected to the Internet with gigabit connections, making for very fast loading of content and data transfers, which is then optimized for the iPad's display and passed along to the user.
OnLive is planning yet another tier of service, a $9.99/month "Pro" level that will offer additional PC applications for use from the iPad and an upgrade from to 50 GB of storage, up from 2 GB on the regular and Plus levels.