iPad 3 with More Tapered Edge and an 8 Megapixel Back Camera?
NextMedia / Apple Daily claims to have received the following photos and information through "special channels". The photo below shows what is claimed to be an overview shot of the new iPad 3 back enclosure (top of image) as well as a comparison shot between the original iPad, the iPad 2 and the New iPad (inset). (via Apple.pro)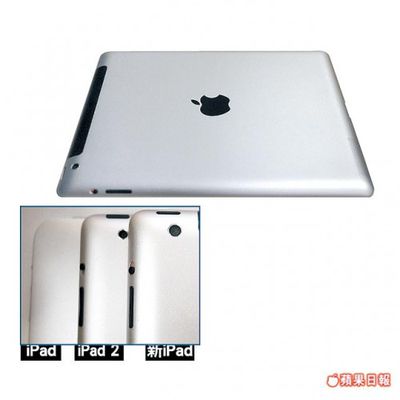 The shell should look familiar as it seems to be the same part we previously published. The lighting, however, is much better in this shot, and reveals the more subtle changes. There are notably no markings on the back of the case besides the Apple logo, itself.
The iPad 3 enclosure seems to have a more gradual taper to the edges than the iPad 2. The taper is seen better on the top overview photograph. As a result of this longer taper, the iPad 3's camera rests on the taper itself. We saw this before but due to the dark lighting of that image, the taper seemed more exaggerated.
The absolute positioning of the camera doesn't seem that far off from the iPad 2, but the lens does appear larger. According to NextMedia, the new iPad 3 camera will see a significant upgrade to 8 megapixels. The current iPad 2 back camera is 1 megapixel in resolution. The site also summarizes many of the other expectations for the iPad 3, such as an improved display, quad-core CPU, and a March 7th announcement date.
We've seen a rumor from the site only once before. They predicted new MacBooks, MacBook Pros and MacBook Air models back in April 5, 2010. The MacBook Pros (alone) did launch 8 days after that report, though some of the details (hard drive sizes) didn't match up to the report. Overall, the images here seem to match up to other parts that have been floating around China. Apple Daily is described, however, as a "tabloid-style" newspaper, but the Hong Kong edition is said to be quite popular as the second best selling publication.