Apple Shuns The New York Times in OS X Mountain Lion Coverage Over Foxconn Reporting
With yesterday's announcements from Apple regarding its forthcoming OS X 10.8 Mountain Lion operating system, a number of media outlets had been provided with advance briefings and early copies of the software for the purposes of having reviews prepared and ready to go. When Apple published its press release and went live with OS X Mountain Lion information at 8:30 AM Eastern yesterday, the embargo was lifted and all of the pre-briefed publications immediately posted their stories on the topic.
But one publication with a long track record of receiving favored access from Apple was missing from that group: The New York Times. An article from the Times' David Pogue was published about five hours after Apple's announcement, and it did not appear to include any specific details suggesting that he had received advance notice of the release.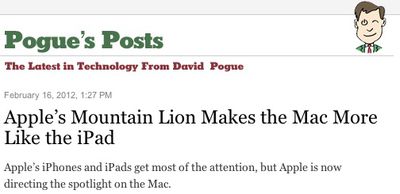 As reported by The Washington Post, Apple apparently shunned The New York Times over the newspaper's "iEconomy" series of articles that has focused in large part on working conditions in Foxconn's manufacturing plants in China.
Says a source at the Times: "They are playing access journalism...I've heard it from people inside Apple: They said, look, you guys are going to get less access based on the iEconomy series."

The on-the-record word from the New York Times differs only slightly from the not-for-attribution word: "We're never happy with our access to Apple. We never have been. Apple is a difficult company to report on," says Damon Darlin, the paper's tech editor.
A decision by Apple to cut off access for a publication presenting the company in a less-than-favorable light should certainly be no surprise to longtime Apple watchers, and the technique is not an unusual one in business as companies constantly seek to ensure the most positive coverage possible. But as The Washington Post notes, the Times may be more than happy to lose some access to Apple in exchange for its ability to publish high-profile investigative reports such as its iEconomy series.
Update: David Pogue did report on Twitter yesterday that he had been "running Mac OS X Mountain Lion for a week", so it is unclear exactly why his report was not ready to go when the embargo lifted and why his article did not offer any mention of a pre-briefing session as a number of the articles from other publications did.
Update 2: John Gruber reports that David Pogue was indeed present for a pre-briefing with Apple.
When I left my briefing with Schiller last Wednesday in New York, waiting in the hallway for the next briefing was: David Pogue.