After Beta, Messages Will Be Exclusive to OS X Mountain Lion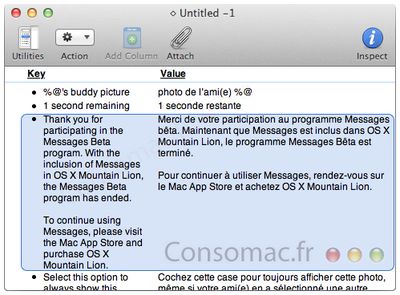 Consomac has discovered that the OS X Lion Messages Beta that was released yesterday will not be a permanent feature for Lion users. Messages is the new iMessage-compatible version of iChat that will be included in OS X Mountain Lion. Apple also released a public beta version for OS X Lion users to try the app in the meanwhile.
Based on the text strings found in the App's resources, it has been revealed that Messages will no longer be available for Lion users once the beta expires. Instead, Apple tells users to visit the App Store to purchase OS X Mountain Lion to continue to use Messages:
Thank you for participating in the Messages Beta program. With the inclusion of Messages in OS X Mountain Lion, the Messages Beta program has ended.

To continue using Messages, please visit the Mac App Store and purchase OS X Mountain Lion.
OS X Mountain Lion will be a paid update and is expected to be released in late summer.