Apple's 'Macroscalar' Trademark Application Sparks Speculation on Processor Architecture Advances
Patently Apple reports that Apple last week filed a curious new trademark application for the term "macroscalar". The company has typically quietly registered trademarks in countries such as Trinidad & Tobago, only to later apply for the marks in the United States and other major markets once the new products and features have been announced. While an application for "macroscalar" was indeed filed in Trinidad & Tobago last August, the new U.S. application and a similar one in Hong Kong are sparking speculation that Apple may have jumped the gun in announcing some new processor technology.
Apple's "Macroscalar" isn't just a new marketing line; it's a processor architecture that's been in the works at Apple since 2004. In fact, Apple owns at least four granted patents on the technology that has yet to come to light. We first covered it in 2009 and briefly twice last year.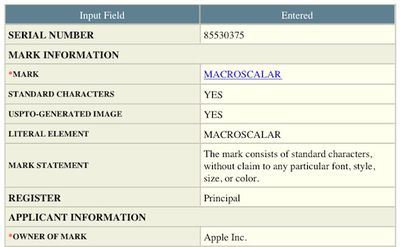 ZDNet published more on Apple's macroscalar architecture last July following one of those patent disclosures, including an explanation of how the technique could be used to improve processor efficiencies by optimizing data-dependent loops.
The macroscalar processor addresses this problem in a new way: at compile-time it generates contingent secondary instructions so when a data-dependent loop completes the next set of instructions are ready to execute. In effect, it loads another pipeline for, say, completing a loop, so the pipeline remains full whether the loop continues or completes. It can also load a set of sequential instructions that run within or between loops, speeding execution as well.
From a user perspective, the technology could support faster performance and lower power consumption, something Apple would definitely be interested in pursing for its mobile devices.
Since Apple provides its own compilers as well as designing CPUs, it is uniquely positioned to offer a complete macroscalar solution to its large band of iOS developers, further widening the price/performance gap between it and the iPad wannabes.

Is it a breakthrough? It could be if the efficiencies it promises can be realized in practice. We'll have to see just how good Apple's compiler engineers are.
While no specifics on Apple's plans have been revealed, the public application for a trademark on the "macroscalar" term is a curious development for the company given that most of its trademarks relate to product and feature names and other promotional descriptions. As a result, speculation suggests that Apple could be preparing to make a significant announcement that will prominently feature the "Macroscalar" term in a similar way to how the company uses "Retina" to describe its high-resolution iPhone and iPod touch displays.