Apple Compensates Victim of iMessage Bug for Breach of Privacy
In December, an apparent bug appeared in Apple's iMessage service that allowed iMessages to be sent to a stolen iPhone. The messages can, apparently, continue to be sent and received from the stolen phone after a remote wipe and a SIM card deactivation. This is obviously an unintended action, and though Apple explains the solution to be "toggle iMessage on and off" in the Settings app, that is an impossible act to perform remotely on a stolen phone.
The Next Web today reports of the case of an anonymous Apple customer who had her iPhone stolen and the lengthy discussions she had with Apple afterwards.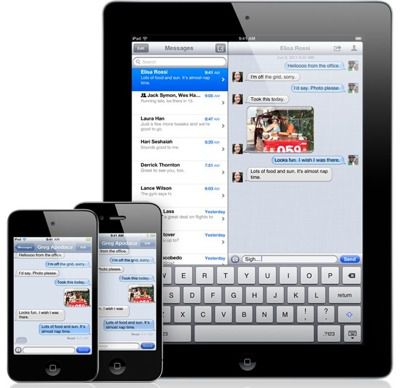 After her iPhone was stolen, Customer K had her SIM card deactivated. However, her friends told her that iMessages they sent continued to be delivered to the stolen iPhone because she hadn't invoked Find My iPhone's Remote Wipe feature. Apple's technical support personnel suggested a wide variety of solutions to prevent her messages from being sent to the other iPhone.
Suggestions to reset her Apple ID password, insert her SIM card into another iOS device, among others, made sense. One request, that she contact her friends and tell them to stop sending her iMessages, Customer K thought was completely unreasonable -- not to mention impractical.
Eventually, nearly 6 weeks after her phone was initially stolen, Apple did finally figure out a unique solution:

Apple was finally able to remotely push 'code' out to the stolen iPhone in order to make the problem stop. This was a result of an Apple Engineering Team weighing in on how to solve the issue.
After the problem was finally solved, the customer continued to push Apple on the issue of compensation and was directed to Apple's legal department. She informed Apple Legal that she was troubled by the length of time that it took to prevent the iMessages from going to the stolen phone and wanted compensation for the extensive breach of privacy.
Eventually, after a phone discussion with Apple legal, K was offered an iPod Touch as compensation for her trouble. Apple claimed it would give her a device with which to receive iMessages.
Apple has still not commented on the matter, but one theory is that the iMessage servers permanently link the UDID number of a particular handset to an Apple ID, so it knows what handset to deliver iMessages to. Messages continue to be sent to a stolen iPhone until iMessage is manually toggled on and off — a task that is impossible to perform on a stolen phone.