OS X 10.7.3 Update 'CUI Error' Fixable in Many Cases with Combo Version
Following yesterday's release of OS X 10.7.3, a number of users in our forums and at Apple's discussion forums began reporting issues with the update. The most serious of these issues seems to be widespread crashing of apps generally accompanied by an artwork error in the crash notice window in which the window's buttons are replaced with graphics showing "CUI" and question marks.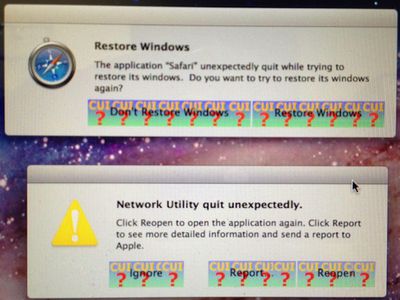 In general, users have found that applying the combo version of the OS X 10.7.3 update rather than the standard delta version typically offered via Software Update will fix the issues. The combo update can even be applied over an existing installation that is exhibiting the problem.
With the crashing issues perhaps causing users difficulties in applying the combo update to fix the problem, OS X Daily provides a nice summary of how this can be accomplished:
The simple formula is this:

- Download Mac OS X 10.7.3 Combo Updater (direct link)
- Run the 10.7.3 Combo Updater on top of the existing 10.7.3 installation
- Reboot

If you can't get to the desktop of the Mac in question, you can boot it with Target Disk Mode (Firewire or Thunderbolt required), and then point the 10.7.3 Combo Update at the troubled Mac and install it that way. If your OS X installation is totally screwed up and you can't use target disk mode, you have a few choices:

1. Restore from a recent pre-10.7.3 Time Machine backup, then install the Combo Updater
2. Boot from Recovery HD, a Recovery Drive, or Lion USB drive, and reinstall everything

Not the best situation, but hopefully you have recent Time Machine backups.
The report also notes that users who already updated and are unaffected by the issues but still concerned that there may still be issues lurking can back up their systems and simply install the combo version for peace of mind.
Update: 9to5Mac notes that Apple has put out a notice to a set of OS X 10.7.3 testers asking for feedback on the issue.
We would like to know if you have experienced an issue after updating to 10.7.3 characterized by the following: Applications crash or quit on launch, The term "CUI" and other graphic anomalies appear in dialogs and windows. If you have encountered this issue please submit a bug report. Be sure to include the following with your report: Install logs, system logs, a full System Report.