Apple Sneaks by Android in Fourth Quarter U.S. Smartphone Sales
Reuters reports on new data from research firm Kantar Worldpanel ComTech showing that Apple slipped past Android by the narrowest of margins in fourth quarter U.S. smartphone sales, with Apple's iPhone taking 44.9% of the market and Android taking 44.8%.
"Apple has continued its strong sales run in the U.S., UK and Australia over the Christmas period," Dominic Sunnebo, global consumer insight director at the research firm said.

"Overall, Apple sales are now growing at a faster rate than Android across the nine countries we cover," Sunnebo added.
The results, driven by Apple's blockbuster quarter in the wake of the iPhone 4S launch, saw Apple double its U.S. sales share year-over-year while Android slipped from its 50% share a year ago. Apple yesterday reported sales of 37 million iPhones during the quarter, far exceeding expectations.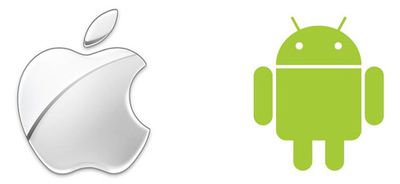 Kantar's report also focuses on Windows Phone, which continues to struggle despite the high-profile launch of Nokia's Lumia smartphones. Windows Phone's market share remains at less than 2% in all nine markets followed by Kantar.