Nokia Unveils First 'Lumia' Phones Based on Windows Phone 7.5
Nokia today announced the launch of its first two smartphones to be based on Microsoft's Windows Phone platform, marking a milestone in the collaboration between the two companies that will see Nokia shift away from its Symbian operating system and the transitional MeeGo platform. The shift comes as Nokia tries to rekindle interest in its phones amid a rapid rise in the popularity of Apple's iOS and Google's Android platforms.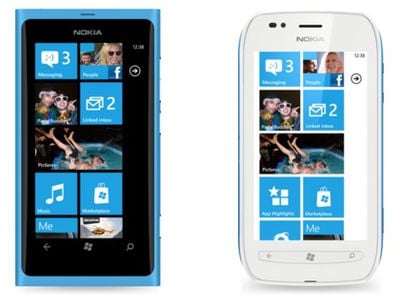 Nokia's Lumia 800 (left) and Lumia 710 (right) smartphones
The high-end Lumia 800, available in black, cyan and magenta, features a 3.7-inch 800x480 AMOLED screen and a 1.4 GHz Snapdragon processor, along with 16 GB of storage and an 8-megapixel camera. The Lumia 710 offers the same 3.7-inch screen and 1.4 GHz processor found in the Lumia 800, but contains only 8 GB of storage and a 5-megapixel camera. The device is available in black and white, with changeable back covers available in an assortment of colors. Both handsets run the latest Windows Phone 7.5 Mango operating system.
The Lumia 800 will initially launch in a number of European countries next month, with availability set to expand to several more Asian countries and Russia by the end of the year. The Lumia 710 will debut alongside the Lumia 800 in that device's Asian launch countries and Russia later this year, with both handsets set to expand to additional markets beginning early next year.
Nokia's plans for the United States remain unclear, as the company's press release notes only that it will be bringing a "portfolio of products" to the U.S. early next year. The company is so far only promoting the Lumia 710 on its U.S. site.