CES 2012: MSI Shows Off Thunderbolt-Connected External GPU
Last August, we reported that Village Tronic was working on a Thunderbolt version of its ViDock PCI Express expansion chassis that serves as a docking hub complete with external graphics card for high-end performance. With Thunderbolt-equipped peripherals making a big splash at CES this week, it should come as no surprise that progress on the expansion hub concept is continuing.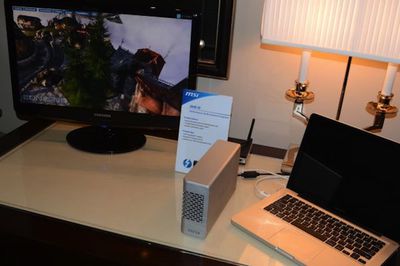 AnandTech reports that MSI is the latest entrant into the category, showing off an early demonstration model of just such a product with its GUS II. While the external graphics card (GPU) featured in the demonstration currently works only under Windows, AnandTech suggests that Mac support should be easily achievable for those GPUs supporting the platform.
The external chassis features a Thunderbolt interface and an internal PCIe slot. Despite running on a MacBook Pro there is currently no OS X support for the solution, but it does work under Windows. Presumably if there's OS X support for the GPU inside the enclosure it would work under OS X as well.

The only limitation to the GUS II is the internal GPU has to be powered by PCIe alone (there are no aux PCIe power connectors inside the chassis).
A release date and pricing for the GUS II have yet to be announced, but it certainly seems as though the Thunderbolt standard championed by Apple and Intel is gaining momentum as it seeks to lead the next generation of multi-purpose connectivity technologies.