ViDock External Thunderbolt PCI Expansion Chassis and Hub in Development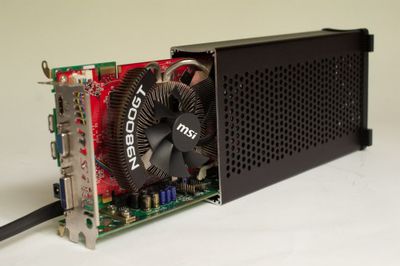 Current generation ViDock
VillageTronic
has started work on a Thunderbolt version of its
ViDock
PCI expansion chassis that allows laptop owners to use PCI Express graphics cards on their computers. They lay out the following usage scenario:

Imagine using your thin and light laptop PC during the day on the job, at school, or at the local café then arriving home, or dorm room, plugging it into your ViDock and firing up your latest PC game on a large format monitor. Just plug in one cable into your laptop PC and you instantly have a powerful 3D workstation with a big display, a big keyboard and your pointing device of choice. You are ready for gaming, video transcoding, photoshop, 3D design, watching full 1080p HD movies, and more!
The ViDock presently interfaces through laptops using an ExpressCard slot, but we've heard that development has started on a Thunderbolt compatible version. ExpressCard slots are a rarity on Apple's laptops, presently only available on the 17" MacBook Pro. By offering a Thunderbolt version of this expansion chassis, even 11" MacBook Air customers could theoretically drive an external graphics card.
Villiagetronic originally posted a feeler for such a device on their Facebook page, promising to pursue development if there was enough interest. They've also discussed the possibility of adding USB ports, Ethernet and other ports to the expansion dock. Separately, we've heard the chassis itself will adopt an aluminum "Mac" look, unlike the presently shipping ViDocks (pictured above).
Sony had previously introduced a similar but proprietary dock system for their upcoming ultra-thin 13" notebook. It's no surprise that companies are starting to work on similar solutions for the broader market, and Villiagetronic isn't alone with a similar Sonnet device also having been announced.