54% of Near-Term Smartphone Purchasers Still Looking to iPhone 4S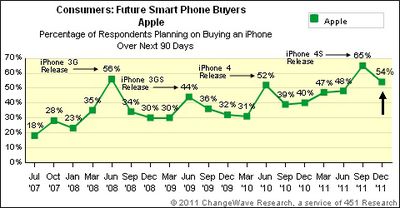 Citing "explosive momentum" for both Apple and Samsung, ChangeWave Research today released the results of a new survey of North American smartphone customers showing that over half of those looking to purchase a smartphone over the next 90 days are planning on buying an iPhone 4S. The 54% share of future buying plans held by Apple as of December was down from 65% in September, but easily marked Apple's best performance when measured two months after a new product release after demand has generally slackened considerably.
The late December survey looked at smart phone demand trends going forward, and finds Apple iPhone demand remains incredibly strong more than two months after the iPhone 4S release.

Among respondents planning to buy a new smart phone in the next 90 days, better than one-in-two (54%; down 11-pts) say they'll get an iPhone.

Apple has never dominated smart phone planned buying to this extent more than two months after a major new release.
Samsung has continued its momentum among Android smartphone purchasers, with its share more than doubling to 13% among those looking to purchase a new phone over the next three months.
In analyzing satisfaction of existing smartphone users, Apple continues to lead with 75% of owners saying they are "very satisfied" with their iPhones. The iPhone has ranked in the 70-80% range for nearly the entire history of the device. Among Apple's competitors, Android manufacturers Samsung, HTC, and Motorola all score in the 45-47% satisfaction range while Research in Motion has continued its slide with a new low of 22% of users registering as very satisfied with their BlackBerry devices.
ChangeWave's sample base focuses on professionals and early-adopter consumers, somewhat skewing its data toward higher-end users likely to have greater awareness of the market. But the firm's long history of consistent data gathering offers a look at patterns measured from this pool of users that frequently serves to set trends for the rest of the market.