Apple Now Offering Free Next-Day Shipping for Last-Minute Holiday Shoppers
Apple today upgraded its free holiday shipping offer (via 9to5Mac) for online orders in the United States to include next-day shipping on all of the company's major in-stock products. The move will help last-minute shoppers make sure they receive their gifts in time for the Christmas weekend.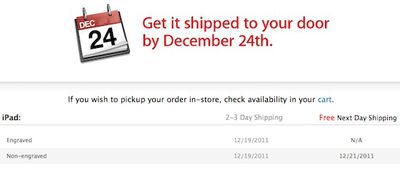 The deadline for free next-day shipping is tomorrow and the offer is good on all major products with the exception of the iPhone 4S, which is in short supply and for which the holiday shipping deadline has already passed, and engraved iPods and iPads. Build-to-order Macs are also no longer available in time for delivery before Christmas.
Apple announced late last month that it would extend its usual free shipping offer to include orders under $50 leading up to the holidays. The company last week bumped the offer up to free 2-3 business day shipping for its major products, making an increased effort to capture shoppers' business as time began to run short.