Apple's Work on Wearable Computer Concepts Includes Wrist-Wrapping iPod with Siri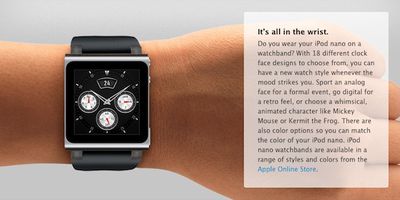 The New York Times reports on Apple's and Google's efforts to develop wearable computers with the aim of augmenting their existing mobile product lines. In addition to peripheral devices that could communicate with a user's iPhone or iPod, Apple is said to also being looking at ways to make the device's themselves wearable, moving beyond the current iPod nano's wristwatch-like functionality when paired with third-party wristbands.
Apple has also experimented with prototype products that could relay information back to the iPhone. These conceptual products could also display information on other Apple devices, like an iPod, which Apple is already encouraging us to wear on our wrists by selling Nanos with watch faces.

A person with knowledge of the company's plans told me that a "very small group of Apple employees" had been conceptualizing and even prototyping some wearable devices.

One idea being discussed is a curved-glass iPod that would wrap around the wrist; people could communicate with the device using Siri, the company's artificial intelligence software.
Last year, Apple hired wearable computing expert Richard DeVaul to work on prototyping concepts in a secret lab under the direction of Jony Ive. DeVaul spent only 18 months at Apple, however, before moving on to Google where he is presumably working on similar projects.