'iPhone 5' Ranked as Sixth Fastest-Rising Google Search of 2011
Google has released its annual Zeitgeist feature for 2011, highlighting some of the top trends in search during the year. As in previous years, Apple and its products appear in a number of contexts within this year's results.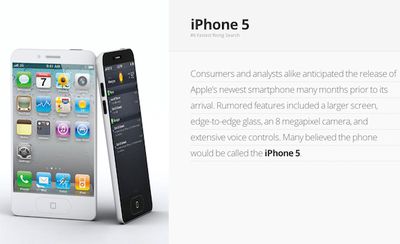 In the highest-profile ranking included in the survey, the term "iPhone 5" ranked sixth among fastest-rising searches on a global basis. Driven by considerable speculation and rumors about the device and Apple's later-than-usual release for this year's iPhone, consumer interest in Apple's follow-up to the iPhone 4 remained at high levels for many months in 2011.
Consumers and analysts alike anticipated the release of Apple's newest smartphone many months prior to its arrival. Rumored features included a larger screen, edge-to-edge glass, an 8 megapixel camera, and extensive voice controls. Many believed the phone would be called the iPhone 5.
Google notes that searches for "iPhone 5" rose 1,658% between 2010 and 2011, with the peak coming in the week of September 25th, just ahead of Apple's iPhone media event. To encapsulate the popularity of the "iPhone 5", Google requested our permission to use the mockups of the rumored design we commissioned from CiccareseDesign based on leaked case designs.
Apple of course released the iPhone 4S and not the iPhone 5 at the event, to the disappointment of many who had been hoping for a significant exterior redesign, hopes that had been fueled by the leaked case designs and rumors of a thinner, teardrop form factor.


As far as Google's Zeitgeist 2011, Apple made several other appearances in high-profile rankings, with Steve Jobs taking ninth place in fastest-rising searches and the iPad 2 taking tenth. Among fastest rising consumer electronics, the iPhone 4S took second place to Amazon's Kindle Fire, with the iPad 2 coming in in sixth place and the so-far unreleased iPad 3 taking tenth.