Apple Products Rank Highly in Mind Share for 2010
With 2010 coming to a close in a few weeks, publications and other sources are putting together their "best of" and "top" lists for the year, and it should come as no surprise to Apple followers that the iPad, iPhone and other Apple products have ranked highly in a number of prominent surveys.
- Google has published its Zeitgeist 2010, ranking top topics based on the billions of search queries made by users during the year. On a global basis, the iPad placed second among "fastest rising" topics, only narrowly trailing Chatroulette. When breaking things down into categories, the iPad topped the global consumer electronics category with the iPhone 4 taking second place.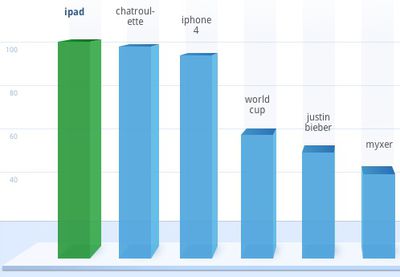 Google.com (U.S.) - Fastest-Rising Queries for 2010
Apple fared even better when looking at the fastest rising trends in just the United States, with the iPad taking the top overall spot over Chatroulette and the iPhone 4 landing in third place. Apple as a company ranked eighth among fastest rising news search terms, while its retail stores ranked eighth among rising search terms for Google Maps. Among image searches, the iPhone and iPad took eighth and tenth place respectivey. Finally, Google's product search category saw the iPad top the list, with iPhone 4 cases checking in in tenth place.
- Twitter is publishing a series of Year in Review features, and its "Trends on Twitter" page shows the iPad topping the technology category for items discussed on Twitter during the year, while also grabbing the sixth spot in overall top trends. iOS ranked third in the technology category, while the iPhone took fourth place and the MacBook Air ranked ninth.
- Time has published its list of Top 10 Gadgets for 2010, and the iPad again took the top spot in the rankings.
It's not the first touchscreen tablet in the history of computing, but it's easily the most successful so far. With 3 million iPads sold in their first month alone and a market for interactive magazines and newspapers created almost overnight, Apple finally managed to make tablet computing cool.
The 11-inch MacBook Air snagged third place, while the iPhone 4 took sixth and the new Apple TV came in seventh.
Time also published a list of top iPhone apps headed by Netflix, while Angry Birds, the hit iOS game that is now also available on Android, took second place among top video games. Apple also scored a mention at the top of the "oddball news stories" category with the $8 million diamond-encrusted iPhone 4.