Wraps Come Down at Apple's Grand Central Terminal Store for Media Day [Updated: Apple Press Release]
With Apple hosting a media preview of its massive new Grand Central Terminal store in Manhattan today, the company continues to reveal the landmark store to the public. Business Insider has posted a few photos showing that the curtains have been removed from main entrance stairway and balcony railing, giving the store its finished appearance from the concourse.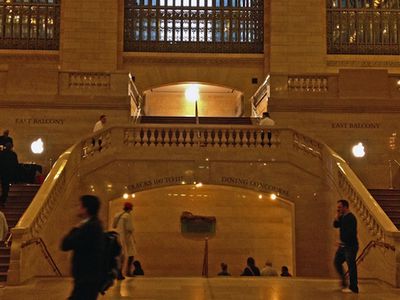 Main entrance (Source: Business Insider)
Apple's exterior signage for the store's main entrance consists of lighted Apple logos mounted on glass panels on each of the two landings for the main stairway, with a third lighted Apple logo mounted above the top of the stairs. Interior photos show that Apple has placed its stock on the sales floor, filling the numerous wood tables with Apple hardware for customers to test out.

Genius Bar and display tables (Source: Business Insider)
techfootnote posts
a few additional photos and notes that free Wi-Fi courtesy of Apple has gone live on the concourse.

Store employees in red shirts on sales floor (Source: NPD's Ross Rubin)
Apple's Grand Central Terminal store will open to the public at 10:00 AM on Friday.
Update: Apple has just published a press release announcing the official opening for the store, touting the "one-of-a-kind" store spanning two balconies and offering two Genius Bars. The company also promotes new 15-minute "Express Workshops" to help users on tight schedules learn new tips and tricks.
The Apple Store® Grand Central, Apple's fifth store in Manhattan, will open Friday, December 9, at 10 a.m., just in time for the holidays. This one-of-a-kind Apple retail store overlooks the historic Main Concourse from the East and North East balconies of the world-famous Grand Central Terminal, and has two Genius Bars for free tech support and advice.

...

Beyond the balcony overlooking the expansive Main Concourse, the Apple Store Grand Central offers rooms dedicated to some of our most popular services, including the largest area in the world dedicated to Personal Setup.
Update 2: Fortune has posted a video walkthrough of the new store.