Apple's Retail Self-Checkout Doing Well, Strong Promotion Coming at Grand Central
CNBC reports on word from a source who claims that Apple has been very pleased with customer usage of the EasyPay self-checkout system for its retail stores. Under the system, customers can use the Apple Store app on their iPhones to scan shelf-stocked items in an Apple retail store and pay for them using their iTunes Store accounts. Customers can simply walk out of the store after the transaction is completed without needing to speak with any store employees.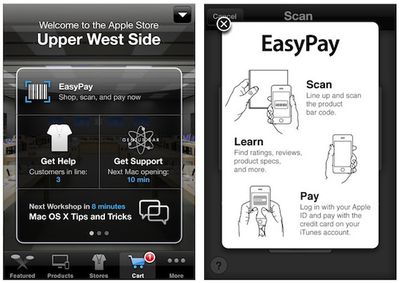 The report does not offer any specifics on the program's performance, but vaguely suggests that it is at least meeting expectations.
Apple's self checkout revolution may have seemed a bit crazy, but it's apparently working out.

That's what I hear from a source familiar with Apple's retail operation.

...

The intelligence I'm getting is that the benefits of the new system are outweighing any negatives.
The report notes that Apple is also expected to heavily promote the self-checkout feature at its new Grand Central Terminal store set to open on Friday. With the open floor plan and throngs of commuters quickly passing through the store, the feature will likely be a popular one for store visitors.
While some have been skeptical of the usefulness of the self-checkout feature, many customers had expressed frustration at difficulties with getting the attention of store employees to complete simple transactions, and the new self-checkout avoids that situation entirely while freeing those staff members for more specialized consultation and training with other customers. Apple has reportedly noted that it envisions self-checkout and another system in which customers can pickup online orders in-store eventually being the primary ways in which customers make purchases from Apple retail stores.