MTA on State Investigation of Apple Grand Central Terminal Deal: 'Bring It On'
Just as Apple revealed yesterday that it will open its new Grand Central Terminal retail store on December 9th, New York State Comptroller Thomas DiNapoli announced that he would be investigating the terms of the deal, which appeared at first glance to be extremely favorable for Apple compared to leases held by other terminal retail tenants and broader market rates.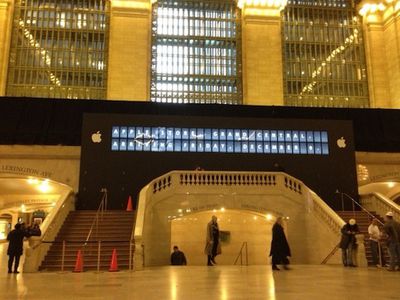 The Metropolitan Transportation Authority (MTA), which oversees Grand Central Terminal and the leasing of its retail space, has now issued a statement welcoming the investigation and expressing confidence that it received the best possible deal for a difficult space that had previously been underperforming expectations.
With regard to any calls for an investigation into the lease, our comment is this: "Bring it on. This is the best possible deal for the MTA, quadrupling the rent we receive and bringing foot traffic to Grand Central Terminal that will increase revenue from all of our retailers. We look forward to explaining the details of this competitively bid transaction to anyone who is interested."
Some of the details of the MTA's argument were covered in yesterday's report, but the agency makes clear that Apple's lease is a significant upgrade over the previous tenancy from restaurant Metrazur, which paid only $263,000 per year in rent and did not earn enough revenue to require percentage rent above that amount. Apple's lease quadruples that of Metrazur's rent obligations to $1.1 million per year.
The MTA also notes that the space is a difficult one for retailers to deal with given the limitations imposed by historic preservation regulations for the open balcony space. Apple's tenancy also required a $5 million buyout of Metrazur's lease, which ran through 2019, and more than $2.5 million in improvements to the building infrastructure, including a new elevator, HVAC systems and other changes.
This is the best possible deal for the MTA. When all of the costs are included, Apple is paying more than $180 per square foot over the ten-year lease. As the competitive bidding process revealed, there are no other uses for this space that would generate the same revenue for the MTA given the up-front costs and limitations.
The MTA is clearly viewing Apple's tenancy as a high-profile addition to draw more customers to the retail component of the terminal in general, noting that for every 1% increase in sales across the terminal's retailers, the MTA will gain $500,000 in rent due to the percentage rent provisions in place on the leases of nearly every other tenant with the exception of Apple.
Other Grand Central Terminal retailers are reportedly "very pleased" that Apple will be adding its hefty retail presence to the area and are looking forward to the increased foot traffic expected from the addition.