iTether App Pulled From App Store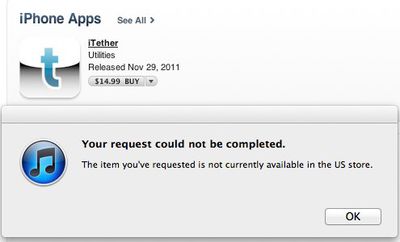 Just hours after becoming the top-grossing app on the App Store, tethering app iTether has been removed by Apple. The $14.99 app, which went live on the App Store last night, allowed users to share their iPhone's internet connection with their Mac or PC computer over USB. With iTether, users could bypass a $20/month service offered by cellular providers for tethering services.
In 2008, Apple briefly approved another tethering app called Netshare but, as with iTether, quickly pulled it from the App Store. The approval of iTether may have been an oversight by Apple, but there has been no official word yet on the reason for the removal. As in the case of Netshare, it should continue to work for those who bought it before it was pulled.