Apple Suppliers Starting to Ship 4" Screens for Next iPhone?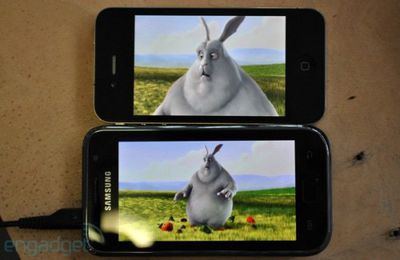 iPhone 4 (3.5") top vs Galaxy S (4") bottom via
Engadget
Macotakara
claims that Hitatchi Displays and Sony Mobile Display Corporation have begun shipping 4-inch LCDs for a new iOS device:
According to Asian source, Hitachi Displays, Ltd. and Sony Mobile Display Corporation started to ship 4-inch LCD for new iOS device and LCD for iPad 3. These 2 companies will be merged their business with Toshiba Mobile Display Co., Ltd., as "Japan Display" in 2012 spring.
The report doesn't specify which iOS device that the screens would be used for, but the most natural choice would be the next generation iPhone. Apple has been said to be exploring the use of a 4" display for their upcoming iPhone. iLounge previously indicated that the 2012 iPhone would use a 4" display.
So far, Apple has only used a 3.5" display across its iPhone line, and there have been arguments that 3.5" may be the ideal size for one-handed use.