Apple Releases iOS 5.0.1 to Address Battery Life Issues [Updated]


Apple has just released iOS 5.0.1 to the public, bringing fixes for battery life issues introduced with iOS 5. The release also brings several other enhancements including multitasking gestures for the original iPad.
This update contains improvements and other bug fixes including:

- Fixes bugs affecting battery life
- Adds Multitasking Gestures for original iPad
- Resolves bugs with Documents in the Cloud
- Improves voice recognition for Australian users using dictation
The build number on the public release is 9A405, an increment of one build over the beta 2 build seeded to developers last Friday.
iOS 5.0.1 is available for iPhone (4S, 4, and 3GS), iPod touch (third- and fourth-generation), and all iPad models. The update is available for download via iTunes, but is not yet showing up as an over-the-air update for direct download to iOS devices.
Update: Several European users are now reporting that iOS 5.0.1 is available as a 44.6 MB over-the-air update on their devices, but it still does not appear to be showing up on devices in the United States.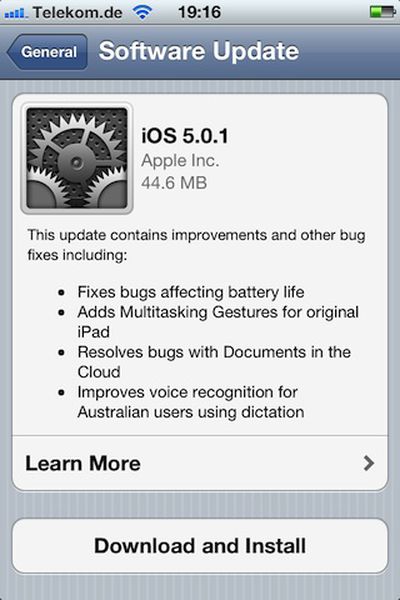 Screenshot of over-the-air update
Update 2: Direct links for downloads:
- iPhone: 4S, 4 GSM, 4 CDMA, 3GS
- iPad: 2 Wi-Fi, 2 GSM, 2 CDMA, Original
- iPod touch: 4th Generation, 3rd Generation
Update 3: The over-the-air update of iOS 5.0.1 now appears to be making its way to the United States, but it may still take some time to roll out to all users. Users are reporting over-the-air download sizes of 40-55 MB depending on device.
Update 4: CNET notes that iOS 5.0.1 addresses the security vulnerability disclosed by prominent security researcher Charlie Miller earlier this week. Miller demonstrated the vulnerability by slipping an app into Apple's App Store, a move which resulted in Apple banning him from the iOS developer program.